Carney Says the Bank of England Is Ready to Respond to Brexit
(Bloomberg) -- Mark Carney said the Bank of England is poised to counter any shock the economy faces from Brexit, deploying interest-rate cuts or even increases to contain any disruption.
While the BOE governor said policy makers assume a smooth departure from the European Union, he also noted that the March deadline for the U.K.'s scheduled departure from the European Union "concentrates the mind."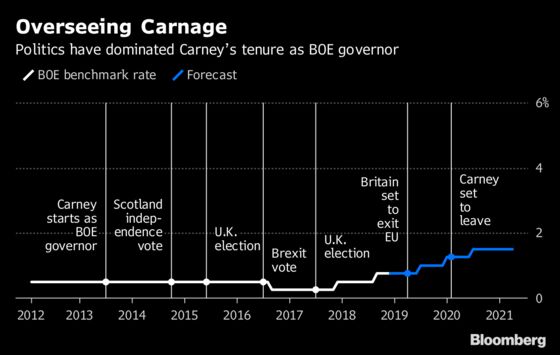 "The Monetary Policy Committee will respond to any material change in the outlook, adjusting policy in either direction," he said. "There are scenarios where policy would need to be tightened."
The BOE is in a bind as it awaits a clearer idea of what any Brexit deal -- or lack of one -- might look like. The risk is that any shock damages economic output while also increasing inflationary pressures that are already building, forcing the bank to tighten policy.
Carney acknowledged that such a situation is relatively rare in developed nations but noted that "the economy is at full capacity right now" -- with inflation above its 2 percent target -- and households aren't slowing their consumption.
"They have a concern about the general economic situation, but much less so about their personal financial situation," he said.
Pressed to comment on the state of the political negotiations, Carney declared that to be a job for the government. He observed that Prime Minister Theresa May's so-called "Chequers" blueprint plan to tie Britain to a common rulebook on goods with the EU is "better than the average" outcome envisaged by the BOE.
The pound held onto its gain of 1.2 percent at 2:08 p.m. London time, boosted by earlier reports that a Brexit deal has been reached for banks -- despite those being denied by British and European officials. Investors brought forward expectations for an interest-rate hike to November next year. The BOE left its benchmark interest rate at 0.75 percent.
What Our Economists Say...
"The message from the BOE today was a simple one. If Brexit is smooth and orderly, financial markets should expect more rate hikes. We remain confident a deal will be struck and think investors should prepare for the Monetary Policy Committee to lift rates twice next year."

-- Dan Hanson and Jamie Murray, Bloomberg Economics. See their U.K. REACT
The bank's updated forecasts highlight the dilemma it faces. They're based on an average range of scenarios for Brexit that may not come to pass. The outlook also doesn't include the U.K. government's latest budget, which was announced this week and which is intended to stimulate the economy.
The BOE slashed its forecast for business investment and sees stagnation this year. It also lowered its 2019 economic growth outlook slightly, to 1.7 percent. On the global economy, it said growth has become more uneven, and downside risks have increased.
The predictions are based on market measures indicating that the BOE will deliver about three more quarter-point rate hikes by late 2021, more than were foreseen a few months ago.
But with those forecasts zero-weighted for a disorderly Brexit, there's an increasing chance they will ultimately have to be thrown out.
Read more
Bad Brexit Could Mean a Once-in-a-Generation U.K. Supply Shock
"Put bluntly, policy makers think that rates should be rising more quickly than markets currently expect, and in an ideal world, we suspect they would want to be tightening policy again quite soon," said James Smith, developed markets economist at ING. "But in reality, the big rise in Brexit uncertainty since the August meeting means that the bank is likely to sit on the sidelines for the next few months."