Carney's Misunderstood BOE Rate Hike Inflames U.K. Brexit Divide
(Bloomberg) -- The Bank of England's latest interest-rate increase has become another battleground in the vitriolic Brexit debate -- yet many of the arguments overlook Governor Mark Carney's reasoning.
Despite Carney's press conference and media interviews, some politicians and economists have been quick to call the move a mistake ahead of Britain's departure from the European Union, while others said it proves a buoyant economy that has defied Brexit critics.
The BOE's rationale is that the second hike since the 2016 referendum wasn't a reaction to booming growth or a vote of confidence in a smooth Brexit. Instead, it's standard central banking to temper rising inflationary forces in a world that's changed since the financial crisis.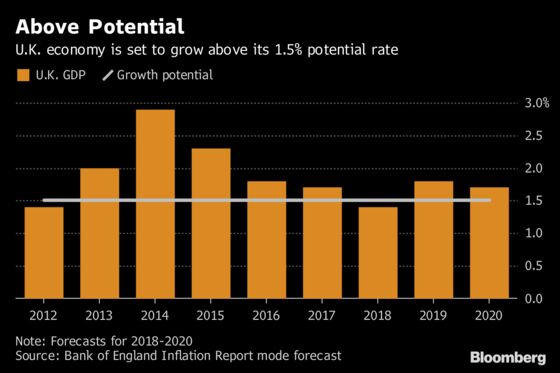 "There are some -- not red flags, but some amber pointers, that would tell you that being on a gradual tightening path is the right place to be at this point," said Victoria Clarke, an economist at Investec. "They don't want to be in a position, if Brexit has gone relatively to plan, to then have to suddenly sharply adjust policy and put the brakes on growth."
BOE policy makers, who voted 9-0 in favor of the increase, are trying to strike a balance between taming inflation as the economy runs out of slack, and protecting against the risk that the nation's Brexit talks will end in a hard rupture that hits growth. Carney said himself on Friday that the risk of the U.K. dropping out of the EU without a deal is unlikely, yet still "uncomfortably high."
Read more:

How Mark Carney Is Preparing for Brexit and the Next Crisis
Nevertheless, Brexit defenders said the rate hike was vindication that the economy was strong and Carney was wrong to warn against the negative consequences of leaving. Conservative lawmaker Jacob Rees-Mogg, who at one point called for Carney's resignation, said on Twitter that the governor "has long been the high priest of project fear, whose reputation for inaccurate and politically motivated forecasting has damaged the reputation of the Bank of England."
Others argued that the economy is just too weak for higher rates with Brexit looming. David Blanchflower, a Dartmouth economics professor who sat on the BOE's rate-setting committee from 2006 to 2009, wrote in a Guardian column that the increase will have to be reversed, and business groups accused the bank of "jumping the gun."
What Our Economists Say...
"The problem is so much hangs on the outcome of Brexit negotiations. All options remain on the table but if, as we expect, the U.K. secures a deal, another hike is likely in May next year."

-- Dan Hanson, Jamie Murray and Niraj Shah, Bloomberg Economics

For more, see our U.K. React
For its part, the BOE says the U.K.'s economy's speed limit is now lower, meaning it can't expand as quickly as it could before the financial crisis without generating unwanted price pressures. Weaker productivity growth is another drawback that leads policy makers to think that even an historically modest expansion will unleash inflation demons.
"We have to reorient ourselves to the current realities," Carney said in a press conference after the bank's policy announcement. "There are a few uncomfortable new normals to reconcile ourselves with."
With efficiency growth far from its pre-crisis average, unit labor costs -- which can drive domestically generated inflation -- are growing at levels consistent with the BOE's inflation target, Carney said. They rose at the fastest pace since the end of 2013 in the first quarter.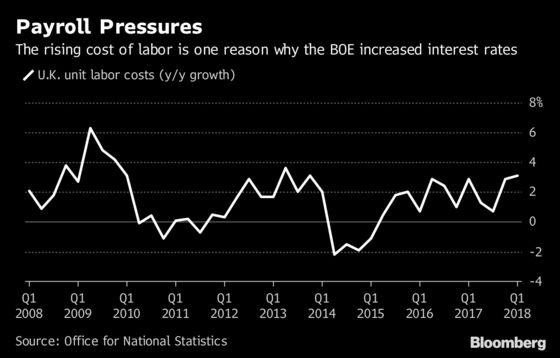 Brexit surprises could still lead the bank to change course. But that doesn't automatically mean rate cuts, Carney argued Thursday. And if circumstances warrant it, the bank can quickly change tact and loosen policy. For now, he said the BOE has to work with what it sees.
"The mistake is to always wait wait wait until you have perfect certainty," he said. "You don't know when that higher degree of certainty is going to transpire."