Carney's Cliffhanger at BOE May Outshine the Fed: Eco Week Ahead
Mark Carney's final policy decision as Bank of England governor is looking to be the most suspenseful of his more-than six-year reign, a thrill for investors that might well surpass that of the Federal Reserve's own meeting this week.
Economists and investors are divided on whether the U.K. central bank chief will bow out with an interest-rate cut. While he has had his share of shocks to contend with, cliffhanger meetings like this have generally been avoided during his tenure.
Thursday's BOE decision is different because there's a split forming among officials on how to respond to conflicting economic signals as they prepare to announce their decision on the eve of Britain's final day in the European Union.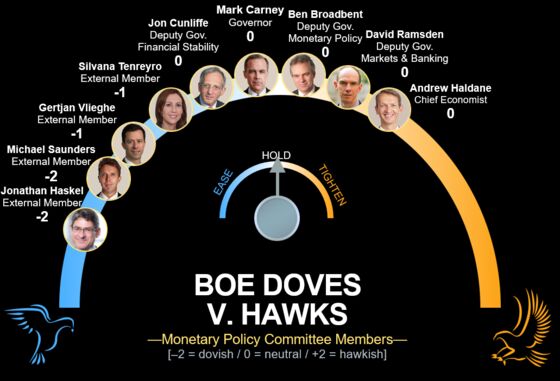 A transition to Brexit will cushion any immediate economic shock, and IHS Markit's index of economic activity is at its highest since 2018 after Boris Johnson's election win curbed uncertainty among businesses. But consumers remain a concern, having driven a plunge in retail sales last month, the year's usual peak for shopping.
Maybe Carney might want to leave his job with some policy fireworks, echoing his former European Central Bank counterpart, Mario Draghi, who unveiled more stimulus before he left in November. Or perhaps the BOE will revert to type, and avoid shifting policy in a January, just as it has at the start of every year for more than a decade.
What Bloomberg's Economists Say...

"The small amount of data we've had for the period since December's general election suggests growth could pick up pace this year. We think the news will be enough to keep rates steady in January but it's far from certain. The majority of the MPC may still see merit in loosening policy to underpin an expected rebound in growth."

--Dan Hanson, senior U.K. economist
Here's what happened last week and below is our weekly wrap of what else going on in the world economy this week.
The Fed is set to meet on Tuesday and Wednesday in Washington. Policy makers are widely expected to hold rates steady. Investors are mostly watching for any statement from the U.S. central bank or comments from Chair Jerome Powell related to the Fed's balance sheet, and developments in its handling of money-market volatility.

Elsewhere on the economic front, U.S. growth probably maintained momentum in the fourth quarter at a 2.1% annualized pace, a report Thursday is forecast to show. But that number will be inflated by a shrinking trade deficit -- due to the trade war's hit to imports from China -- and masks a likely slowdown in consumer spending as well as a possible third-straight decline in business investment.
In Canada, the ratification process for the new Nafta deal starts on Monday, while monthly gross domestic product data for November is due on Friday.
For more, read Bloomberg Economics full Week Ahead for the U.S.
Europe, Middle East and Africa
The euro-zone economy probably rounded off 2019 with its 27th consecutive quarter of expansion as weakness in Germany began to ebb. Analysts reckon data on Friday will show GDP probably rose 0.2% from the previous three months, underscoring the European Central Bank's view of "ongoing, but moderate growth."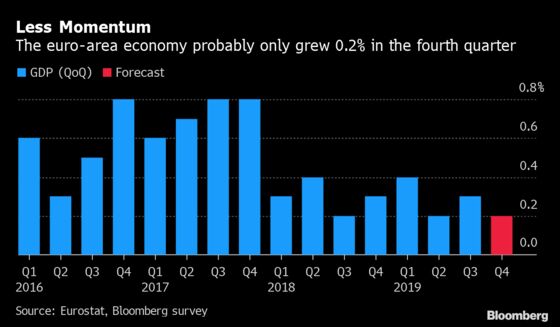 GDP data for France, Spain, Italy, Austria and Belgium are also due, while the German government publishes new economic forecasts and may upgrade its outlook in the wake of some better numbers recently.
Hungary and Ukraine announce rate decisions, with the later predicted to cut its benchmark rate. Central bankers in Kenya and Ghana are also predicted to keep rates on hold.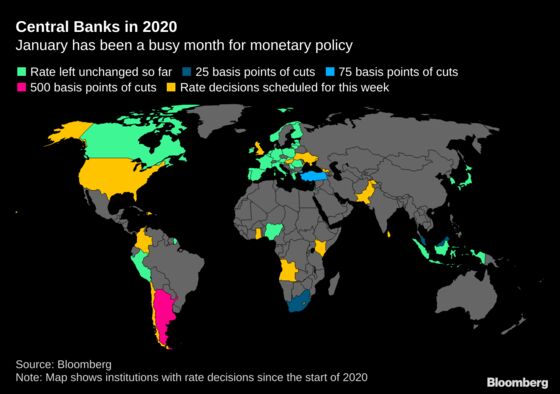 The Turkish central bank will have its first inflation report meeting of the year on Thursday and Governor Murat Uysal may announce a new policy anchor after the inflation-adjusted key rate fell below zero following the latest rate cut last week.
For more, read Bloomberg Economics' full Week Ahead for EMEA
Most of the focus here is on the spread of a new SARS-like virus that has spurred the lockdown of the central Chinese city of Wuhan. That threatens to disrupt travel and spending plans in the Lunar New Year holidays, where China shutters for a week-long break. Many other Asian economies will mark the holiday at the start of the week too.
Australia Inflation Likely Remained Below Target in 4Q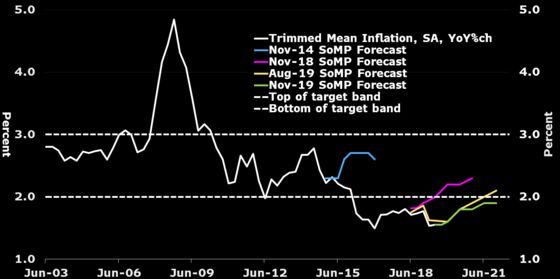 Australian inflation data due Wednesday will be closely watched, especially after stronger-than-expected December jobs numbers saw markets pare bets on an interest-rate reduction in February.
China gets back to work on Friday, when the PMI report for January will be released. On Saturday, India will announce its federal budget with the government struggling to revive an economy that has lost its world-beating title amid a downturn in consumption.
For more, read Bloomberg Economics' full Week Ahead for Asia
Chile's central bank on Wednesday is expected to keep its key rate unchanged for a second month on concern that the aftershocks of last fall's mass civil unrest may yet spur inflation and a renewed bout of peso weakness.
Chile Monetary Policy Interest Rate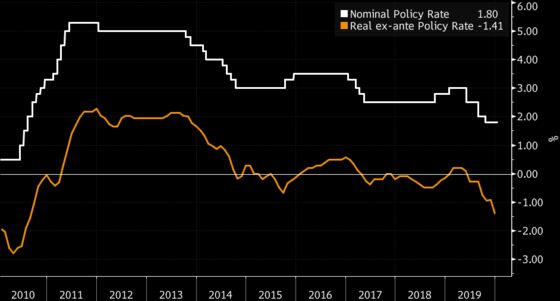 A day later, Mexico's preliminary reading of fourth-quarter GDP will likely show the economy stalled as uncertainty over the direction of policy there and in the U.S. sidelines investment.
On Friday, the combination of inflation near the top of the target range and steady growth will likely see Colombia's central bank keep its key rate unchanged for a 14th straight meeting.
For more, read Bloomberg Economics' full Week Ahead for Latin America