Carney May Have to Take More Pessimistic View of U.K. Economy
(Bloomberg) -- The Bank of England may be on course to cut its growth forecasts for the next two years, even without taking into account the latest impasse in Brexit negotiations.
None of the 15 economists surveyed by Bloomberg expect the central bank to raise its forecasts for growth in 2019 and 2020 -- currently at 1.8 percent and 1.7 percent -- when it presents its Inflation Report on Thursday, while almost half see the outlook being cut. Respondents are evenly split on what officials will do to their 1.4 percent forecast for this year.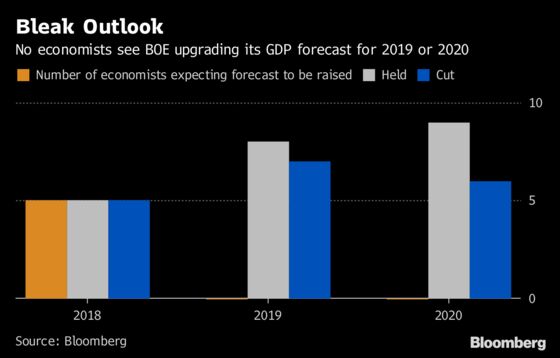 Worse news may be to come. The BOE's forecasts are based on a Brexit with a smooth transition to an "average of a range of outcomes," meaning they will not reflect the growing risk of talks between the U.K. and European Union ending with no deal. Whatever the outcome, the predictions will most likely need rewriting as soon as any deal -- or lack thereof -- is announced, which may have big implications for future policy.
BOE officials, led by Governor Mark Carney, are expected to keep interest rates unchanged at this week's meeting, and investors are growing more pessimistic about the chance of future hikes. Markets are no longer fully pricing in another rate increase in 2019, and bets on a May move -- previously seen as almost certain -- have been cut by more than half since early October.
The bank's forecasts aren't the only ones being released this week. Chancellor of the Exchequer Philip Hammond will announce the Office for Budget Responsibility's latest projections when he presents his budget later Monday.
Inflation Report Projections
GDP
CPI
Weekly Earnings
2018
2019
2020
2018
2019
2020
2018
2019
2020
Raise
5
0
0
8
1
1
12
3
1
Unchanged
5
8
9
6
8
10
1
10
12
Lower
5
7
6
1
6
4
0
0
0
Number of Participants
15
15
15
15
15
15
13
13
13