Carney Gets Crisis Deja Vu Looking at Risky Company Debt Surge
(Bloomberg) -- Bank of England Governor Mark Carney said corporate borrowing is the big worry when it comes to global debt because standards have slipped and risks have risen.
"Like households, companies repaired their balance sheets following the crisis but unlike households, corporates then went back to the well," he said in a speech in London Tuesday. "Relative to earnings, aggregate corporate debt in the U.S. and U.K. is nearing pre-crisis peaks, and the distribution is worsening. In the U.K., the share of highly levered companies is above pre-crisis levels."
The BOE governor also noted there's a question as to what companies are doing with the funds given the borrowing has coincided with a "very modest growth in investment."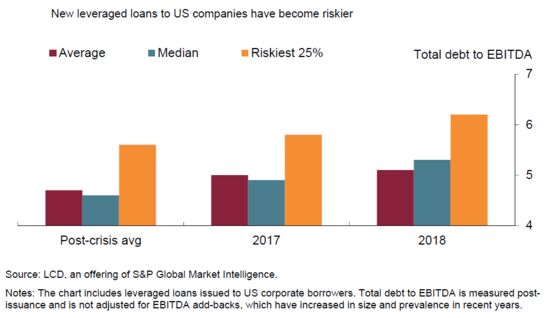 Outlining his reasons for concern, Carney notes a number of metrics that renew memories of the debt splurge prior to the financial crisis:
Globally, the average quality of corporate borrowers has "deteriorated materially"
The leveraged lending market grew 21 percent in 2018, faster than the rate of growth in U.S. subprime mortgages in the run up to the crisis
The stock of outstanding leveraged loans is now double that of subprime in 2007
In addition, 60 percent of leveraged loans are now covenant-light and are reminiscent of the bubble-era "no-doc" mortgages that required no proof of income.
"To add to the sense of deja vu, growth in leveraged loans has been increasingly driven by securitization," Carney said.
Still, the governor added that the main holders of leveraged loans can generally bear the risks and reiterated that the financial system is more resilient than in 2007.
"Banks in most regions are now more likely to be stabilizers rather than amplifiers of shocks," he said.