Carney Endorses Brexit Transition as May Argues for EU Deal
(Bloomberg) -- Mark Carney gave his seal of approval to the transition deal agreed by Prime Minister Theresa May with the European Union, and hinted he would welcome even longer for the U.K to adjust.
In testimony to lawmakers in Parliament, the Bank of England Governor united with other officials -- and U.K. businesses -- to warn of the dangers of leaving the European Union without a smooth exit. The intervention could assist May as she tries to convince skeptical lawmakers to back her plan. The BOE will give more details on its views on Nov. 29.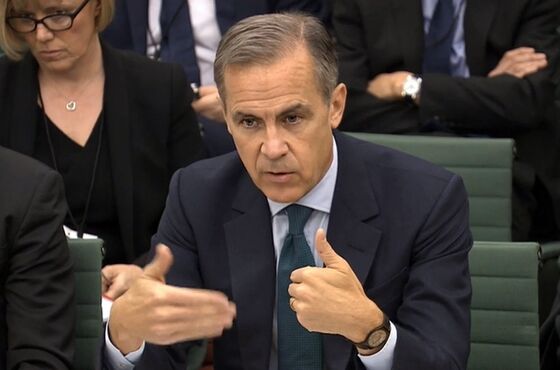 "We welcome the transition arrangements in the withdrawal agreement," Carney said. "We also take note of the possibility of extending that transition period"
Carney declines to say if no deal has become more likely
Speaking in the same hearing, BOE chief economist Andy Haldane said that no-deal uncertainty is having an impact on business, and could mean weaker growth in the fourth quarter.
In their annual report to Parliament, Michael Saunders and Jon Cunliffe also said that growth could moderate in coming months.
Bloomberg Economics says investors' bets on the BOE's outlook suggest they could be putting the chances of a no deal as high as 50 percent.