Carmakers' China Tax Joy Will Be Short-Lived
(Bloomberg Opinion) -- Beijing is preparing to give the world's largest car market a nudge, after months of data pointing to a sustained slowdown. Investors shouldn't heave a sigh of relief just yet.
The National Development and Reform Commission proposes to halve the tax on auto purchases to 5 percent from 10 percent, Bloomberg News reported, citing people familiar with the matter. Shares of Chinese and global carmakers from Geely Automobile Holdings Ltd. and Volkswagen AG to BMW AG jumped, paring their declines over the past year.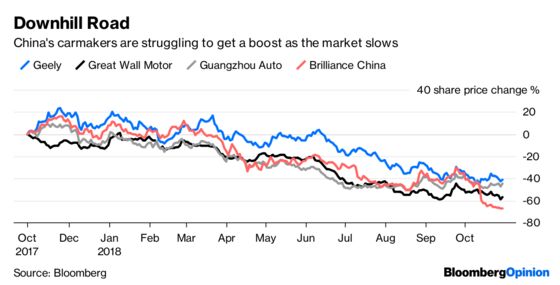 The potential shot in the arm comes as auto sales head for their first annual decline in almost three decades. Beijing has done this twice before at times of market weakness to prop up demand for vehicles with engines of 1.6 liters or smaller, which account for more than 70 percent of the country's new car sales. Both times demand surged.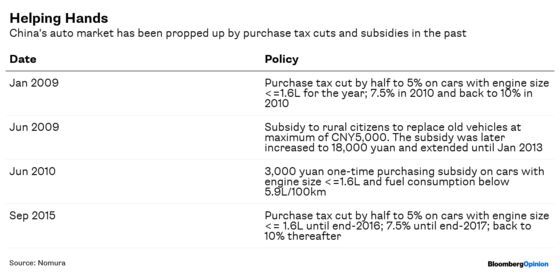 In 2009, sales climbed by more than 50 percent after a reduction in the purchase tax along with a subsidy for rural dwellers to replace old vehicles. In September 2015, a temporary, tiered lowering of the purchase levy boosted growth in the following months by between 13 percent and 18 percent.
This time is different. For one thing, China's car market has grown up, as we explained here. That means the same type of blanket subsidy won't work. Competition has risen, along with the range of cars available. Underlying demand is far weaker in the segment of the market at which this subsidy is aimed than during the past two rounds of cuts.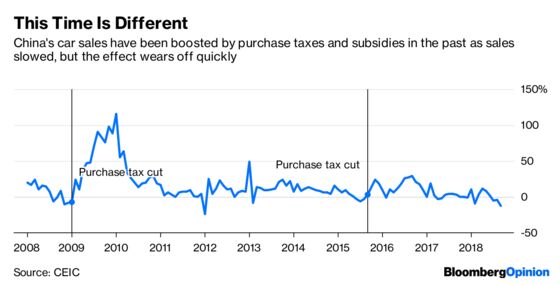 Second, there's the state of government coffers. As economic growth has stumbled, China's latest bout of fiscal stimulus has come in the form of tax cuts instead of the usual boost to investment and spending. As a result, investors have been keenly awaiting some type of aid for the car market. Most were looking for a value-added tax cut or a reduction in the tax on auto-related investments. Given the government's fiscal constraints and that VAT accounts for around 40 percent of the central government revenue, such large-scale help was unlikely to be forthcoming.
Something had to be done. The auto market is a key contributor to economic growth, accounting for around 5 percent of China's gross domestic product last year. In the third quarter, a decline of almost 7 percent in car production could have shaved an estimated 0.3 percentage points from growth, according to Jefferies analysts.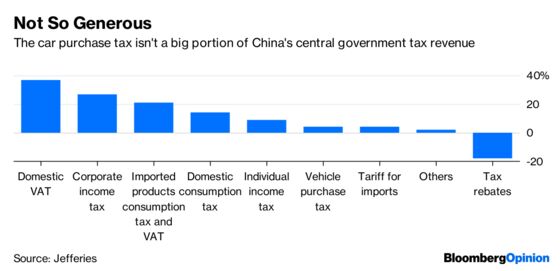 The purchase tax was an easy choice, considering it provided only about 4.3 percent of central government revenue last year. Throwing such a carrot to the auto market may bolster confidence, or at least stem the magnitude of sales declines, but it won't have the same impact as in the past.
Investors who are driving up the shares of automakers in response are probably being optimistic. SAIC Motor Corp., Volkswagen's partner in China, and other domestic automakers that typically produce cars with these engine sizes will be helped. Japanese carmakers that have been aggressively seeking to expand their foothold may also be relatively big winners. For most, though, the relief is likely to be momentary.
This column does not necessarily reflect the opinion of the editorial board or Bloomberg LP and its owners.
Anjani Trivedi is a Bloomberg Opinion columnist covering industrial companies in Asia. She previously worked for the Wall Street Journal.