The Rise and Fall of an Auto Titan. Carlos Ghosn in Pictures
(Bloomberg) -- Carlos Ghosn, a legendary figure in the car industry known for building the Renault-Nissan-Mitsubishi Motors group into the world's biggest car alliance, was arrested in Japan after an internal investigation unveiled "significant acts of misconduct" over many years by him and Director Greg Kelly.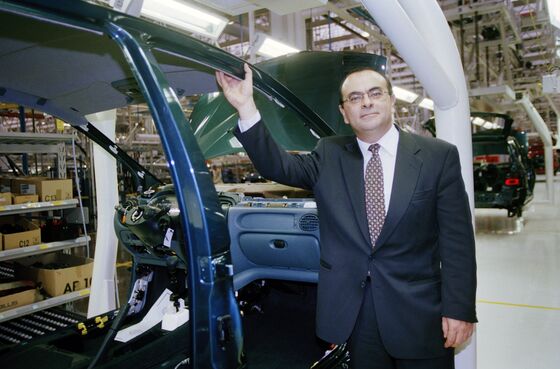 A Brazilian-born French national, Ghosn was educated in Lebanon and in Paris before spending 18 years at tire maker Michelin, rising up the ranks to run its North American division. From there he moved to Renault, where he was executive vice president from 1996 to 1999. He was then assigned to turn around Nissan, where he reduced the company's purchasing costs, shut factories, eliminated 21,000 jobs and invested the savings back into 22 car and truck models in three years. Ghosn enjoyed a cult-like following in Japan after saving Nissan from near-bankruptcy, earning the moniker "Le Cost Killer" for his methods.

Ghosn was among the first traditional auto bosses to embrace electric vehicles, spearheading the rollout of the Nissan Leaf in 2010 when battery-powered cars were a wildly exotic sight on most roads. He predicted that small companies would have a hard time keeping up, making scale a vital recipe for survival. Salvation for the car industry lay in embracing more than just building automobiles, Ghosn said.
As the alliance gained in heft—together, Renault-Nissan rivals Toyota Motor Corp. and Volkswagen AG in size—so did Ghosn's own reputation. He was a regular on the panels of the World Economic Forum in Davos and other international conferences, discussing the future of transportation and the need to rethink an industry facing massive disruption.
 

Left: Then COO of Nissan, Ghosn arrives at a news conference in Tokyo on Oct. 18, 1999, to announce the revival plan of Japan's second largest automaker.  Ghosn said Nissan would shut three assembly plants and slash 21,000 jobs to become more competitive. 
Right: About 5,000 union members protest Nissan's restructuring plans in Tokyo on  Jan. 25, 2000. The automaker said it would sell shares and repay debt, while cutting staff and closing factories. Ghosn's revival plan transformed the company from near-bankruptcy to profitability within two years.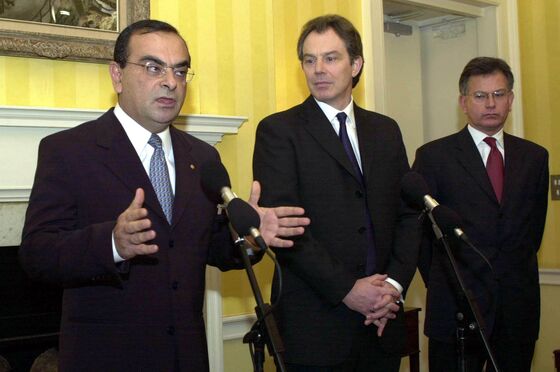 Ghosn with U.K. Prime Minister Tony Blair and Minister of Trade and Industry Stephen Byers at Downing Street in central London on Jan. 25,  2001, where Ghosn announced that the company would build its new Micra car in Sunderland, England, investing  235 million pounds  ($302 million) to boost production to 500,000 cars a year, and create about 500 new jobs.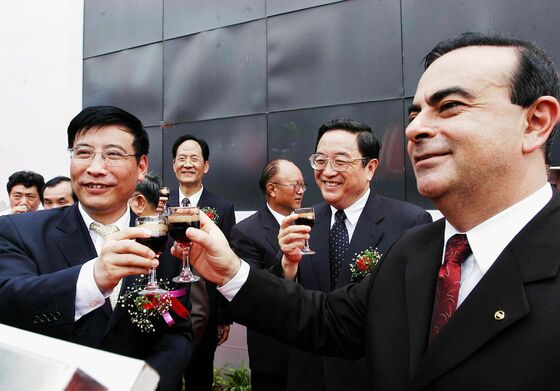 Ghosn toasts Wei Miao, president of China's Dongfeng Motor Corp., left, after cutting the ribbon on a $2 billion joint venture to manufacture cars and trucks in Wuhan, China, on June 9, 2003.

Ghosn takes questions from employees, left, and visits the Laguna production line with managers and staff at the Renault factory in Sandouville, France, on May 4, 2005.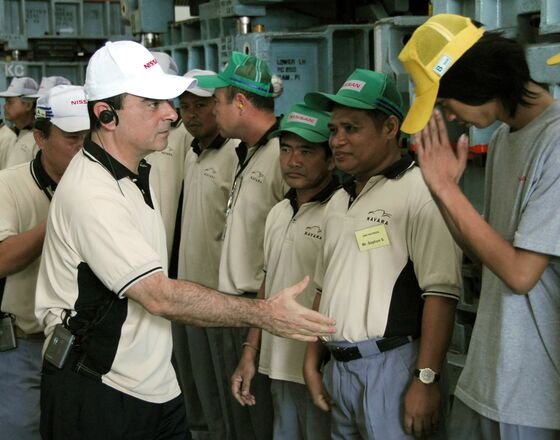 Ghosn greets workers during a tour of the Siam Nissan factory outside of Bangkok, Thailand, on June 26, 2007, as Nissan expanded its use of the Southeast Asian country as a low-cost production base.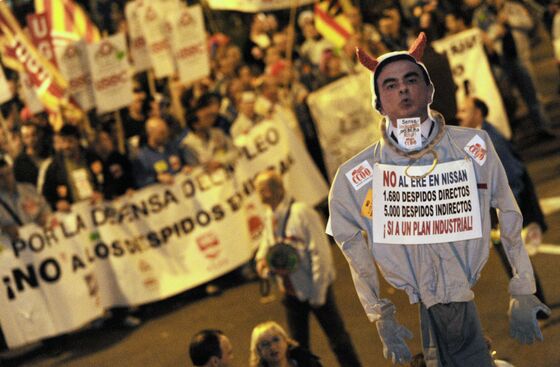 A cardboard cutout of Ghosn hangs on display during a protest against looming job cuts in Barcelona on Nov. 5, 2008.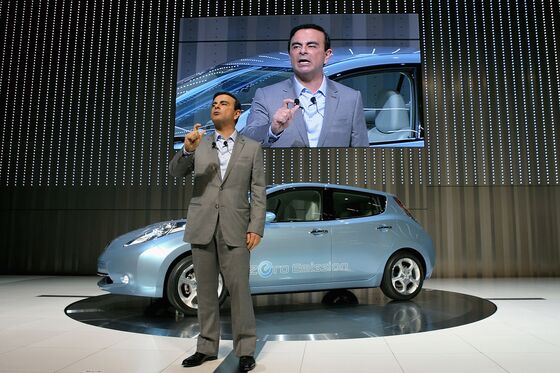 Ghosn introduces Nissan's Leaf zero-emission electric vehicle at the opening ceremony of the company's new global headquarters in Yokohama on Aug. 2, 2009.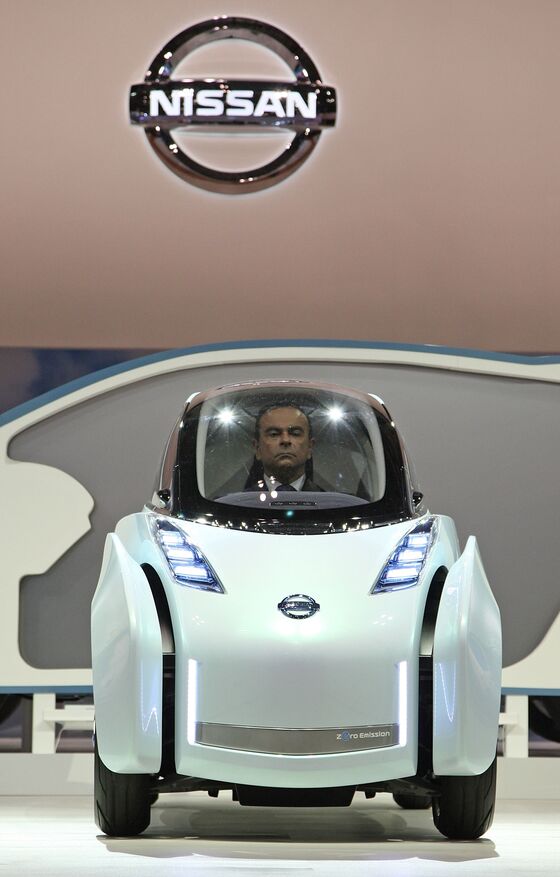 Ghosn sits inside the Nissan "Land Glider" EV at the Tokyo Motor Show on Oct. 21, 2009.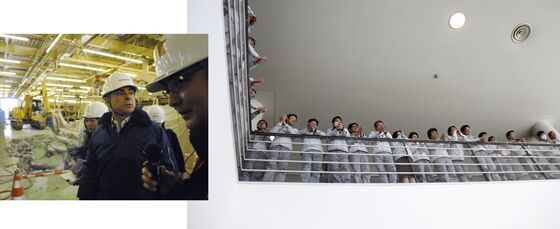 Left: Ghosn inspects the Nissan Iwaki Factory, which was heavily damaged by the earthquake and the tsunami, on March 29, 2011, in Iwaki, Fukushima, Japan. Source: The Asahi Shimbun/Getty Images.
Right: Employees listen to Ghosn speaking during a ceremony at the same plant on April 5, 2016. Nissan donated e-NV 200 electric vehicles to the prefecture and Iwaki City, the region damaged by the earthquake and tsunami five years ago. Photographer: Tomohiro Ohsumi/Bloomberg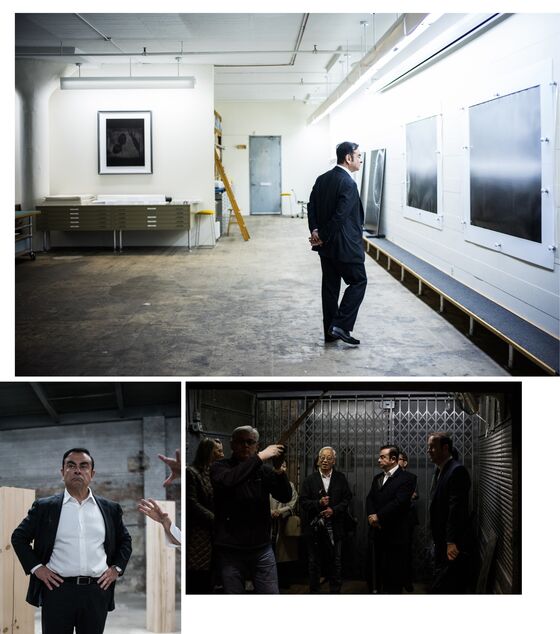 Ghosn pays a visit to Japanese photographer Hiroshi Sugimotos Chelsea studio in New York on May 6, 2017.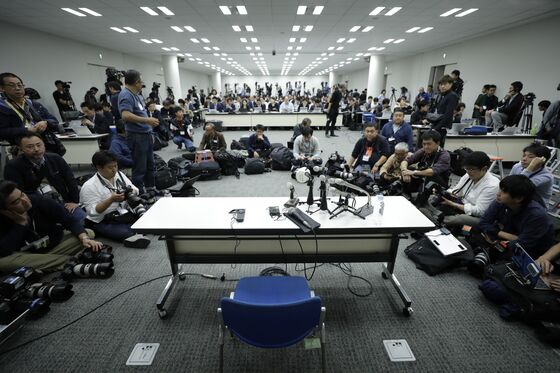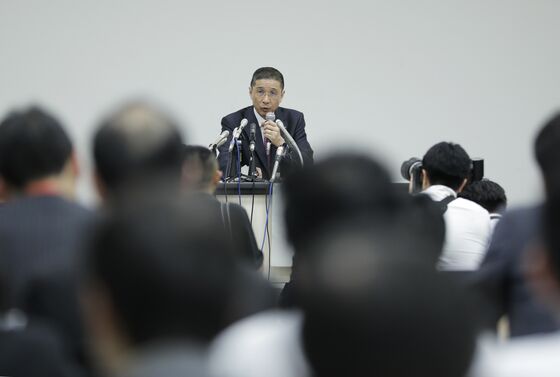 Nissan President Hiroto Saikawa speaks at a news conference in Yokohama on Nov. 19. Long the protege of Ghosn, Saikawa told a room full of reporters that he was struggling to express the indignation he felt after uncovering alleged financial misconduct by his mentor. Ghosn's long tenure appeared to have had a "negative impact" on day-to-day operations, Saikawa explained, adding that the company needed to improve its weak corporate governance. With his departure, the future of the alliance is being questioned.