Capital Investments Fall as India Inc. Undergoes Debt Detox
(Bloomberg) -- After the big borrowing binge at the start of the decade, it's still the big cleanup season for India's private firms.
That's the takeaway from the central bank's latest study on investments by India Inc., with total capital expenditure falling for the seventh straight year. Investments for fixed asset creation more than halved to 1.49 trillion rupees ($21 billion) in the year ended March 2018 from 3.7 trillion rupees seen in the comparable period ended March 2011, the Reserve Bank of India study shows.
India's corporate sector witnessed a debt-induced expansion, making the most of a stimulus in the aftermath of the global financial crisis. When a slowdown followed, companies sought to deleverage and repair their balance sheets. Several projects turned sour in the process, forcing Indian banks to write-off loans and end up with the highest stressed-asset ratio in the world.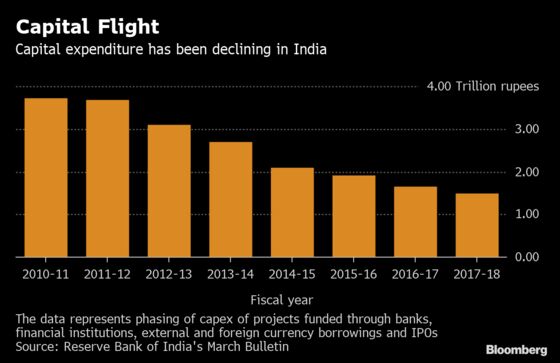 "The year (2017-18) marked the seventh successive annual contraction in the private corporate sector's capex plans," the RBI said in the study. But there's hope: planned capital spending for the first half of the current fiscal year showed an improvement over the previous year's pipeline.