Cantor Joins Top HSBC Banker at Saudi Summit as Rivals Stay Away
(Bloomberg) -- Moelis & Co. vice chairman Eric Cantor took to the stage with HSBC Holdings Plc's global banking chief at Saudi Arabia's signature investment summit on Wednesday, breaking ranks with fellow top bankers.
Cantor, a 55-year-old Republican and former House majority leader from Virginia, led a session on capital markets alongside Samir Assaf and central bank Governor Ibrahim Al Omar on the second day of the Future Investment Initiative. The three-day event has been marred by international outrage over the killing of government critic Jamal Khashoggi, which prompted dozens of high-ranking executives to give the summit a miss.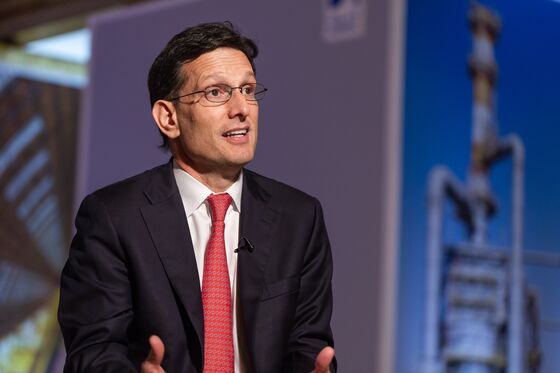 Cantor's appearance in a black suit and red tie came just a day after Moelis founder and Chief Executive Officer Ken Moelis addressed the conference, and underscores the importance of the kingdom's business for the boutique bank.
Speaking to a half-full room alongside Trustbridge Partners founder Shujun Li, Assaf said he's optimistic about the global outlook in the short term, but flagged the risk that a trade war could impact inflation and decisions by the Federal Reserve.
Saudi Arabia is almost home-from-home for the U.K. lender. The bank's local unit is in the process of buying a local rival part-owned by Royal Bank of Scotland Group Plc in a $5 billion deal to create the kingdom's third-largest lender.