Can Investors Bank on Europe?: European Equity Pre-Market
(Bloomberg) -- Euro Stoxx 50 futures are little changed as investors are still assessing the consequences of the Italian budget. By deciding to ignore discipline, the Italian government damped market confidence and gave banks their worst day of the quarter on Friday. Investors are left wondering about the future of the Italian coalition, the consequences from a souring relationship with Brussels, and potential rating downgrades. So Italian stocks will be in focus again. Traders will also have their eyes on the euro-zone and U.K. manufacturing PMIs release.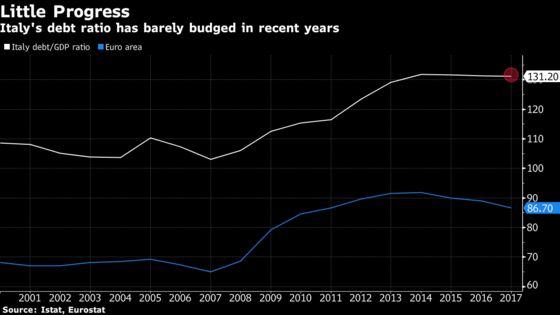 This year is really no walk in the park for European banks. Whenever it looks a bit like a relief rally from another low, it proves to be another false start, before the next set of bad news weighs on the sector. The Italian budget caused bank shares to drop for a fourth consecutive quarter - the longest losing streak since 2016. Some analysts argue the move was overdone given the change in Italian government bond yields, thus it shows how sensible and fragile the market still is, 10 years after the financial crisis, when it comes to the link between government bonds and (Southern) European banks.
It might also be an indication that long-term investors still stay short of entering the sector, despite many analysts calling it cheap and undervalued. One reason could be that banking stocks would also need some prospect of fundamental momentum to draw more attention from investors -- something that's been lacking so far. On the contrary, the amount of uncertainty gets bigger and bigger and may prevent a substantial change in investor's sentiment. While unlikely to see first effects from last week's bond moves already in the upcoming third-quarter earnings, all eyes and ears will be on the guidance for the remaining year. Deutsche Bank's CFO has already prepared the market that results may not be too exciting while UBS's CEO said trade tensions are adding to client uncertainty.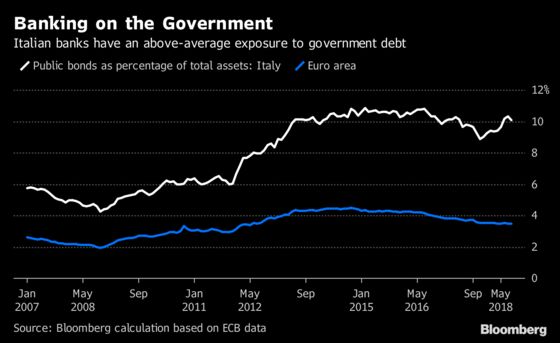 Enough with the banks: there will be some other stocks to watch today. U.K. homebuilders with a heavy exposure to London and luxury houses could come under pressure on Theresa May's plan to impose higher taxes on foreign buyers of U.K. properties. Casino may get another push after selling more assets, as well as Cyber security stocks after Facebook's breach.
Elsewhere, Canada saved the Nafta agreement by signing a new deal with the U.S. administration and sent S&P futures back to record territories. Chinese markets are on holiday, but the surprise deceleration in the Chinese PMI is weighing on metals across the board. Oil is still on the rise despite Trump's effort to get Saudi Arabia on his side.
Finally, some IPO talk. With Aston Martin starting trading this week, we took a look at European new listings in 2018. European IPOs have raised about $37 billion in 2018 so far, compared with about $44 billion in the same period last year. This year's best IPO success stories signal that tech is still king, while real-estate and financials aren't having the best time.
"We have been moving in steps toward a slightly more defensive stance in recent months in the anticipation of Growth slowing next year," Bernstein strategists write in a note. "Adding exposure to defensive Growth and also, in Europe, overweighting Staples and underweighting Industrials. Friday's shock came from a different source -- Italian political risk, but highlights the need for such exposure."
NOTES FROM THE SELL SIDE:
AB InBev has been downgraded to hold from buy at Jefferies on the back of emerging-markets volatility and a lack of near-term catalysts. Morgan Stanley also lowered its price target on the Belgian beer maker, citing possibility that the interim dividend will be cut to help a de-leveraging process, which is being held back by EM currency volatility
Thyssenkrupp's supervisory board unanimously approved a plan Sunday to split the company into two units, and named Bernhard Pellens as its chairman.
Royal Dutch Shell and its four partners have agreed to invest in a multibillion-dollar liquefied natural gas project in western Canada -- the largest new one of its kind in years that would carve out the fastest route to Asia for North American gas.
Casino has signed agreement with "major institutional investor" for disposal of 55 Monoprix real estate assets for net amount of EU565m. Casino also confirms all 2018 objectives.
On Monday, the number of banks deemed too big to fail in the euro zone will grow to eight from seven. The new arrival is Nordea Bank, which is moving its headquarters to Helsinki from Stockholm.
Watch Greek Stocks Ahead of Govt. Revealing Draft Budget Numbers
Watch Cyber Security Stocks After Facebook Reveals Hack
Watch Italy Again as Market Digests Budget-Driven Rout
Hermes Urges Danske to Consider Suing Managers Over Scandal: FT
Tarkett Completes Acquisition of Lexmark Carpet Mills
Ailing Swiss Baker Aryzta Forecasts Earnings Growth This Year
Vestas Wins Orders in Canada and Germany
Sage Acts to Remove Pressure on Staff to Hit Growth Targets: FT
Sanofi Completes Sale of Zentiva to Advent Ahead of Schedule
Audi Already Has 15,000 Orders for Electric E-Tron Car: Report
Sonae to Buy 60% Stake in Arenal Perfumerias Parent Tomenider
Linde/Praxair Deal Approved by China Regulator
Rio, Mitsui, Nippon Steel Invest $1.5b in New Iron Ore Projects
Europe's Phone Carriers Are Slumping as Investors See No Relief
Shurgard Starts EU575m Private Placement on Brussels Exchange
TECHNICAL OUTLOOK for Stoxx 600 index:
Resistance at 383.7 (50-DMA); 384.3 (200-DMA)
Support at 379.9 (23.6% Fibo); 371.9 (Sept. low)
RSI: 53.3
TECHNICAL OUTLOOK for Euro Stoxx 50 index:
Resistance at 3,417 (50-DMA); 3,463 (200-DMA)
Support at 3,315 (38.2% Fibo); 3,274 (Sept. low)
RSI: 51.1
MAIN RESEARCH AND RATING CHANGES:
Barclays upgraded to buy at Berenberg
Castings upgraded to buy at Peel Hunt
Gazprom GDRs raised to equal-weight at Morgan Stanley; PT $5.30
Kaufman & Broad raised to hold at Kepler Cheuvreux; PT 40 Euros
RSA upgraded to buy at Berenberg
Scor upgraded to neutral at Goldman; PT 38 Euros
Thomas Cook upgraded to hold at Berenberg
Zalando upgraded to neutral at MainFirst; Price Target 35 Euros
AB InBev downgraded to hold at Jefferies
EasyJet downgraded to underperform at Bernstein
Sampo downgraded to neutral at JPMorgan; Price Target 50 Euros
Telecom Italia cut to underweight at Barclays; PT 43 Cents
Vestas downgraded to neutral at JPMorgan; PT 450 Kroner
MSCI Asia Pacific up 0.3%, Nikkei 225 up 0.5%
S&P 500 down 0%, Dow up 0.1%, Nasdaq up 0.1%
Euro down 0.14% at $1.1588
Dollar Index up 0.12% at 95.24
Yen down 0.17% at 113.89
Brent up 0.6% at $83.2/bbl, WTI up 0.4% to $73.5/bbl
LME 3m Copper down 0.6% at $6219.5/MT
Gold spot down 0.3% at $1188.6/oz
US 10Yr yield up 1bps at 3.07%
MAIN MACRO DATA all times CET:
9am: (SP) July House Mortgage Approvals YoY, prior 3.9%
9am: (SP) Aug. Retail Sales YoY, prior -0.6%
9:15am: (SP) Sept. Markit Spain Manufacturing PMI, est. 52.6, prior 53
9:45am: (IT) Sept. Markit/ADACI Italy Manufacturing PMI, est. 50.2, prior 50.1
9:50am: (FR) Sept. Markit France Manufacturing PMI, est. 52.5, prior 52.5
9:55am: (GE) Sept. Markit/BME Germany Manufacturing PMI, est. 53.7, prior 53.7
10am: (GR) Sept. Markit Greece Manufacturing PMI, prior 53.9
10am: (IT) Aug. Unemployment Rate, est. 10.55%, prior 10.4%
10am: (EC) Sept. Markit Eurozone Manufacturing PMI, est. 53.3, prior 53.3
10:30am: (UK) Aug. Mortgage Approvals, est. 64,500, prior 64,800
10:30am: (UK) Aug. Money Supply M4 MoM, prior 0.9%
10:30am: (UK) Sept. Markit UK PMI Manufacturing SA, est. 52.5, prior 52.8
11am: (EC) Aug. Unemployment Rate, est. 8.1%, prior 8.2%
(IT) Sept. Budget Balance, prior 1.3b
6pm: (IT) Sept. New Car Registrations YoY, prior 9.46%