Calling Time on the Rebound in Emerging Markets: Simon Flint
(Bloomberg) -- Emerging-market stocks are on the cusp of reentering a bull market following their tumultuous sell-off in March, but further gains aren't yet justified by five key fundamental measures.
Of the so-called five Ps -- pandemic, production, policies, positioning and prices -- the last one above all is flashing a warning sign. For starters, the MSCI Emerging Markets Index of stocks never fell anywhere near as much since the coronavirus outbreak erupted as during the global financial crisis (35% against 66%).
And that stocks gauge has now already bounced back 20% from the March low. It's all a bit incongruous given an economic downturn that's much worse than in credit-crisis times: the International Monetary Fund estimates a 1% plus GDP drop for emerging and developing economies this year, versus positive growth in 2008-09.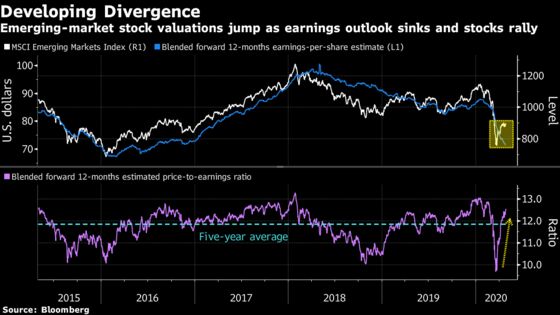 What's more, earnings forecasts for the next 12 months are plunging, but shares have continued to rally for the most part. That's led to valuations seeing a massive snap back to essentially pre-virus levels.
Then let's take the policy metric. Global economic authorities have in the past few months have announced an impressive amount of stimulus -- an excess of $8 trillion of fiscal measures by one calculus, and trillions more from whatever-it-takes central banks.
But by now that's been priced in. The likelihood of even more impressive steps is low, simply given how much has been delivered. U.S. and European central bank meetings this week will illustrate that, following the Bank of Japan's incremental moves on Monday.
As for production, investors are taking heart now that a number of economies are scheduling their re-openings. China's better-than-expected output in March showed how it's possible for production to bounce back quickly when lockdowns ease.
That said, it's improbable that everyone can repeat China's apparent success. There's a risk of poorly managed re-openings -- if there's insufficient testing and contact tracing, for example. Most models indicate economies will be subject to repeated tightening of constraints. Future lockdowns may need to be of a severity commensurate with the renewed spike in cases.
As to positioning, the Institute of International Finance earlier this month predicted only a modest recovery in capital flows to emerging markets in the second half of 2020. That's after a record outflow in the first quarter. "We foresee a slow recovery of equity flows due to a sluggish rebound in emerging market growth," IIF economists wrote in an April 8 report.
When it comes to the pandemic itself, the pace of new infections has slowed, but the total count is high, at over 3 million, and there's a growing consensus that the pathogen will likely return in waves.
Note: Simon Flint is an emerging-market strategist at Bloomberg News. The observation he makes are his own and not intended as investment advice.