Call Macron If You Want to Succeed Draghi at ECB, Berenberg Says
(Bloomberg) -- Candidates for a suite of European Union political positions this year would be well-advised to consult with French President Emmanuel Macron first, according to investment bank Berenberg.
Governments will this year need to agree on successors for the heads of the European Central Bank, European Commission, European Council and European Parliament, among other key posts. While Germany has signaled its interest in a top job, Berenberg Chief Economist Holger Schmieding reckons political expediency might make Macron the kingmaker.
"Because Germany and many other EU member countries habitually praise Macron's pro-European elan but have up to now offered him very little substance on serious EU/euro-zone reform, they may want to grant him a visible success on the less important matters of personnel. Macron can probably decide whether he wants to claim the presidency of the ECB or the EU Commission for a candidate of his choosing."
Should Macron want a French candidate to succeed Mario Draghi as ECB president in November, Schmieding sees the top candidate as Bank of France Governor Francois Villeroy de Galhau, a German speaker from the border between the two nations. Benoit Coeure, another Frenchman, is likely to be thwarted because he's already on the ECB's Executive Board and his term is supposed to be non-renewable when it expires this year. He might instead replace Villeroy.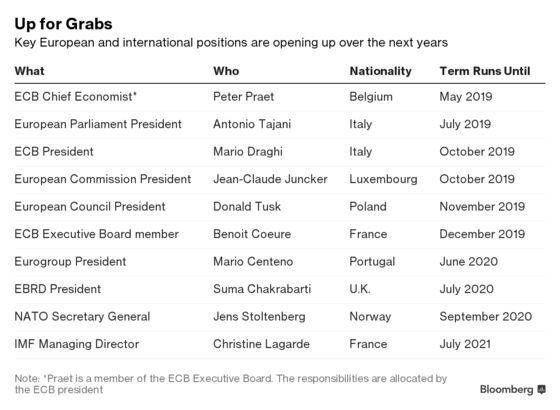 Schmieding puts the top non-French candidate as Finnish Governor Olli Rehn -- in contrast to a Bloomberg survey which sees Rehn's predecessor Erkki Liikanen in the lead. Either way, Macron's nominee would "likely hail from a country that is not further to the south of Germany than France."
A French ECB president could leave Germany room to get Manfred Weber, Chancellor Angela Merkel's preferred candidate, in as Commission head -- if EU elections in May work in their favor. Should Macron decide he wants that job for France, Schmieding sees EU Brexit negotiator Michel Barnier and Bank of France Deputy Governor Sylvie Goulard as frontrunners.