Fierce California Winds Provide No Relief From Fires
(Bloomberg) -- The weather is giving Californians no respite Sunday from wildfires that have killed at least 23 people and forced more than 250,000 people to flee their homes.
Governor Jerry Brown formally requested President Donald Trump to release new federal aid in a "major disaster declaration'' that will help the state combat the most destructive wildfires in its history. His request came as California was swept again Sunday by dry steady winds that can rapidly spread fires and cause them to burst out of control.
"We're putting everything we've got into the fight against these fires, and this request ensures communities on the front lines get additional federal aid," Brown said in a written statement. The major blazes are north of San Francisco and near Los Angeles.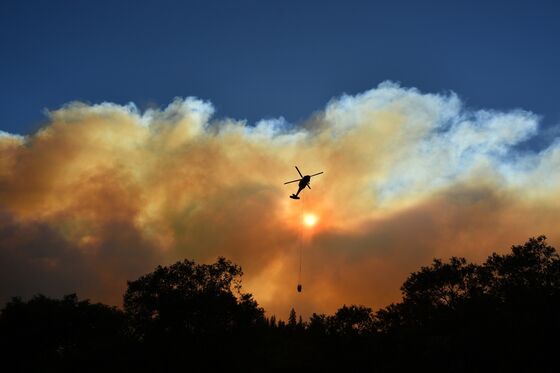 The request for emergency funding to support housing, crisis management and infrastructure recovery efforts comes a day after Trump threatened to withhold federal payments to California. Initially, he'd threatened to withhold money because of what he called "gross mismanagement of the forests." His later tweets were more measured, saying that "our hearts are with those fighting the fires."
The blazes have spread to more than 196,000 acres and threaten to destroy tens of thousands of structures according to the California Department of Forestry and Fire Protection, or Cal Fire. About 50,000 homes and businesses have lost power, and 8,000 local, state and federal firefighters are on the scene.
Authorities are investigating electrical equipment as one of several possible causes of the Camp blaze, about 150 miles (240 kilometers) northeast of San Francisco, Cal Fire spokesman Scott McLean said. Utility PG&E Corp. is still struggling to cope with losses from last year's deadly fires that could cost it as much as $17.3 billion in liabilities, according to a JPMorgan Chase & Co. estimate.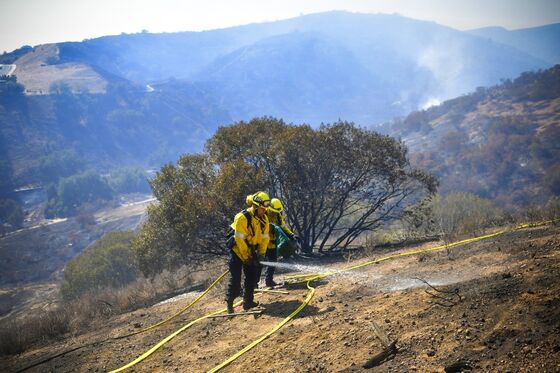 Almost half of California faces an elevated risk for fires, with some 15.5 million people living in critical areas that include Los Angeles and San Jose, according to Brian Squitieri, a fire-weather forecaster at the U.S. Storm Prediction Center in Norman, Oklahoma. The danger areas include Malibu, the coastal enclave of the rich and famous.
The so-called Camp Fire has now destroyed more structures than any other wildfire in state history, according to data compiled by Cal Fire. In Southern California, the Woolsey blaze had consumed 83,275 acres in Ventura and Los Angeles counties by early Sunday and was only 10 percent contained. Winds are causing that blaze to spread, a situation that will continue through Tuesday, Los Angeles County Sheriff Department Chief John Benedict said Sunday.
The worst situation is forecast for an area around Santa Ana, Riverside, Anaheim and San Bernardino, where winds will channel through the terrain reaching upwards of 30 miles (48 kilometers) per hour, the climate center said. That will put almost 8 million people in "a volatile environment for wildfire potential."
While the weather in many areas could improve Monday, conditions in Southern California and parts of the Sacramento Valley will remain extreme.
On Sunday, Trump tweeted again to encourage "proper" management to "stop the devastation constantly going on in California."
A PG&E transmission line in the area went offline 15 minutes before the Camp blaze was first reported, the company said in a regulatory filing. The company also reported finding a damaged transmission tower near where investigators say the fire began. And firefighter radio transmissions reviewed by the San Jose Mercury News included calls about downed power lines.
State investigators linked equipment owned by PG&E to 17 fires that burned in the state last year. Shares of PG&E, which provides electricity in Northern California, fell more than 16 percent on Nov. 9, the most since 2002. Edison International, which serves much of the southern part of the state, dropped 12 percent.
Edison's Southern California Edison utility said late Friday that it had a power outage near the vicinity of the suspected starting point for the so-called Woolsey fire, according to a regulatory filing. The utility said that a sensor detected a disturbance in its equipment two minutes before the fire was first reported, according to the filing. Southern California Edison said there had been no determination of origin or cause of the wildfires and the utility will cooperate with the investigation, according to a statement issued late Friday.
In Southern California, the Hill fire has torched about 4,500 acres in Ventura County, but has been contained up to 70 percent.
Malibu -- which has been home to Hollywood stars including Tom Hanks and Dustin Hoffman -- was evacuated after flames swept south across the Santa Monica Mountains toward the sea.
Meanwhile, decreasing winds in Northern California are lowering the risk that a fire burning near Chico, which has already torched about 110,000 acres, will continue to spread. Still, the blaze forced 52,000 residents to evacuate from several nearby towns.