Buoyant Euro-Area Services Drive Pick-Up in Growth Momentum
(Bloomberg) -- The euro area's services sector expanded at a faster pace than initially estimated in June, as the industry drove a pick-up in the bloc's growth momentum.
A purchasing managers' index for the region climbed to 55.2 last month, higher than an earlier flash estimate of 55 and up from 53.8 in May, IHS Markit said Wednesday. The survey also showed business optimism climbed for the first time in four months, while activity, new orders and employment also accelerated.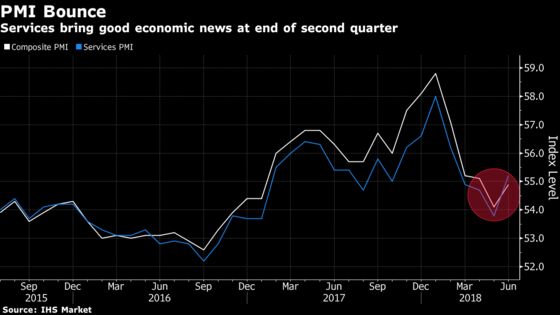 The buoyancy in services helped push a composite reading for output in the wider euro area economy to 54.9, again higher than an initial estimate. While the average reading for the second quarter as a whole was the lowest since the end of 2016, it still points to a growth rate of just over 0.5 percent in the period, Markit said.
That compares with 0.4 percent in the first three months of 2018, and suggests the region is gathering pace after a slow start to the year. European Central Bank officials have expressed confidence in the underlying strength of the region's economy, saying last month they plan to end bond purchases this year.
"Eurozone growth regained momentum in June, rounding off a respectable second quarter performance," said Chris Williamson, chief business economist at Markit. "The upturn in the pace of economic growth and resurgent price pressures adds support to the ECB's view that stimulus should be tapered later this year, but the details of the survey also justify the central bank's cautious approach."
Reports earlier Wednesday showed readings for the services sector in Germany and Italy climbed to four-month highs, while France's reached the most in two months. Spain was the only euro region nation covered to see a drop in growth momentum, Markit said.