Bundesbank Won't Distribute Profit for First Time Since 1979
(Bloomberg) -- Germany's central bank won't distribute a profit to the government for the first time since 1979 as it braces for "considerable" risks related to pandemic stimulus programs.
The Bundesbank revealed Monday that it topped up provisions by 2.4 billion euros ($2.9 billion) last year to protect itself from defaults and interest-rate risks. The report comes after some European Central Bank policy makers sounded the alarm over a rise in bond yields across the 19-nation euro zone, holding out the prospect of faster asset purchases.
The ECB has built its pandemic response around a 1.85 trillion-euro bond-buying program that's scheduled to run for at least another year. It has also offered generous long-term loans to banks that come with interest payments if credit is extended to companies and households.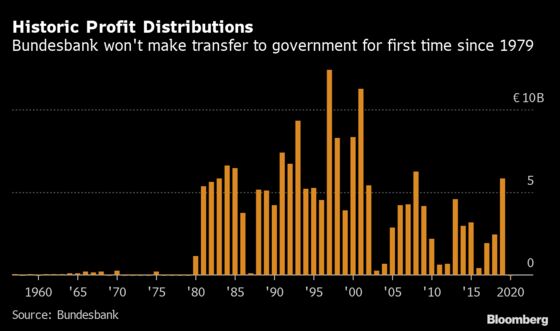 "Extensive monetary policy measures have pushed up the risks on our balance sheet," Bundesbank President Jens Weidmann said in a statement published alongside the central bank's annual report. "For one thing, default risk has increased because we have acquired a large volume of corporate bonds. For another, interest-rate risk is up."
As a result, the Bundesbank posted no profit for the year. In 2019, it had transfered 5.9 billion euros to Germany's finance ministry.
Central banks across the euro zone are likely to see profits weighed down by some of the ECB's pandemic support measures. Monetary authorities in Estonia and Austria have also flagged reduced earnings. The Bundesbank expects to top up its provisions for general risks also this year.
On the economy, Weidmann said Bundesbank staff currently see no reason to fundamentally question their forecast of 3% growth in 2021. However, if lockdown restrictions were extended into the second quarter, they would possibly have to reassess their assumptions.
Germany is entering its fifth month of lockdown restrictions, with most shops, restaurants, gyms and cultural venues still shuttered. Government officials are meeting on Wednesday to discuss the next steps in pandemic curbs, with Chancellor Angela Merkel pushing for a broad extension until March 28 while allowing a partial easing of some measures.