Bundesbank Says the ECB Should Aim for a Lean Balance Sheet
(Bloomberg) -- The Bundesbank said a lean balance sheet should be European Central Bank's ultimate goal as it cautioned against a hasty overhaul of policy makers' toolbox.
The German central bank is pushing back against suggestions by Finnish central bank chief Olli Rehn that the ECB should review the instruments it has at its disposal. Bundesbank President Jens Weidmann said last year the ECB should seek to interact with markets just as it did before the crisis.
The ECB doesn't need to be too specific in naming its tools, though it should outline the cornerstones in its communication, the Bundesbank said in its annual report published Wednesday.
"Monetary policy must not be allowed to disregard significant changes in the financial markets and in the regulatory environment," the report said. "Yet calls for a wide-ranging overhaul of the operational framework seem premature at the present stage."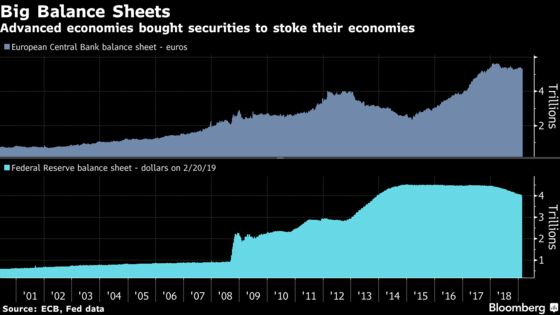 The balance sheet should be so lean as not to impair proper functioning of the markets and large enough to make sure price stability is ensured, the Bundesbank said. A slimmer book also leaves the central bank with more room for maneuver should it need to respond to exceptional situations.
While government bond purchases remain a "legitimate" monetary policy instrument, they should only be used in exceptional cases such to ward off the risk of deflation, it said.
The German central bank is wadding into a debate about how to prepare for the life after stimulus at the time when the euro area is facing fresh risks to its economic outlook. Federal Reserve officials said in January they will likely halt the process of letting assets roll off the balance sheet before the end of 2019, leaving the U.S. with a book that's much larger than before the debt crisis.