Bundesbank's Jens Weidmann Pushes Back on Calls for German Spending
(Bloomberg) -- Explore what's moving the global economy in the new season of the Stephanomics podcast. Subscribe via Pocket Cast or iTunes.
Bundesbank President Jens Weidmann has a message for those suggesting the German government needs to step up spending -- the debate is "completely disconnected" from reality.
"The economy is working with an almost-closed output gap," he told a New York audience in response to questions at an event on Wednesday. "Why would you spend money when you are operating at full capacity?"
Germany, the euro zone's biggest economy, has near record-low unemployment but is probably now in recession as trade tensions hit exports and a manufacturing slump spreads to the services sector. Yet the government is running a budget surplus and insists it will continue to balance its books. The European Central Bank, where Weidmann sits on the decision-making Governing Council, has repeatedly called on nations with such fiscal space to use it.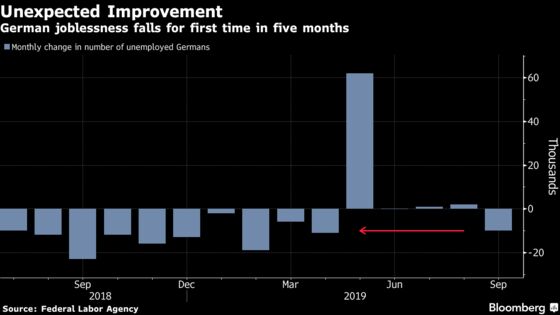 There are signs the mood is shifting. Lawmakers from Chancellor Angela Merkel's Christian Democrat-led group, among the key opponents of finance ministry plans to respond to any economic hit, are starting to soften their stance, according to two people familiar with party discussions.
Weidmann, a longstanding opponent of much of the ECB's monetary stimulus, said there's no need to rush into fiscal stimulus as automatic stabilizers such as unemployment benefits will in any case pick up.
"In the short term, some additional fiscal spending might be possible," he said in his speech. "However, with respect to macroeconomic stabilization, any further stimulus appears unnecessary, unless a perceptible deterioration in the economic outlook becomes apparent. Germany's output gap is about to close and forecasts don't foresee a marked deterioration."