Bundesbank Hedges Against Higher Rates Even as Outlook Weakens
(Bloomberg) -- Want the lowdown on European markets? In your inbox before the open, every day. Sign up here.
Germany's central bank continued raising risk provisions to prepare for higher interest rates even as the prospect of an increase seems to have diminished amid the euro area's worsening economic outlook.
The Bundesbank boosted provisions by 1.5 billion euros ($1.7 billion) to 17.9 billion euros at the end of 2018, marking the third year it has built up such reserves. The institution sees a risk in the combination of low-yielding long-term assets on its balance sheet -- amassed during nearly four years of bond purchases -- and rising liabilities in the future related to higher interest rates.
"General risk provisions are traditionally used to hedge against exchange-rate risk, but, due to the non-standard monetary policy measures, also against default and interest-rate risk," President Jens Weidmann said in a statement.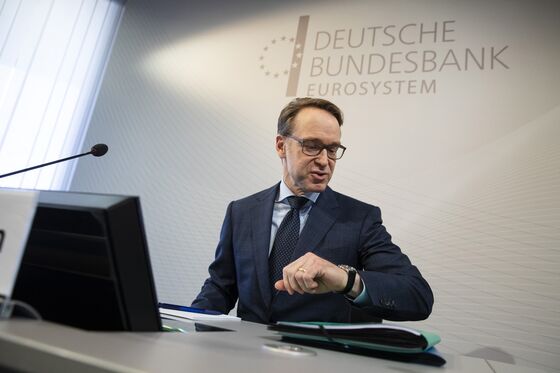 With euro-area economic data deteriorating in recent months, investors don't see rates rising until well into 2020. The European Central Bank pledges to keep borrowing costs at their present levels until at least through the summer, and has indicated it may push back that guidance if the outlook softens further.
The Bundesbank noted that the German economy -- Europe's largest -- has weakened more than expected, and that 2019 growth will likely be "considerably lower" than the 1.6 percent figure previously forecast. Yet it also said favorable financing conditions as well as rising employment and wages should continue to support momentum.
"Activity still appears to be sluggish at the turn of the year," according to the Bundesbank's annual report. "All in all, though, the main forces driving aggregate growth in Germany are as intact as they ever were -- the global economy is expanding, monetary policy remains exceptionally accommodative, and the loosened fiscal policy will probably add further stimulus as this year progresses."
The ECB's decision to halt bond buying means the asset side of the Bundesbank's balance sheet is likely to remain relatively stable in the current year. In 2018, total assets increased by 114 billion euros, and rose by more than 1 trillion euros over the four-year period of the ECB's asset-purchase program. The central bank posted a profit of 2.5 billion euros for the year, of which it transferred 2.4 billion euros to the government.