Bundesbank Finds Italian Households to Gain Most From Rate Hikes
(Bloomberg) -- Italians stand to benefit the most from interest-rate increases in the euro area, even as the country's policy makers have historically shown skepticism toward scaling back monetary stimulus.
A study published Monday by Germany's central bank argues that households in Italy have significantly reduced debt levels since the financial crisis and are thus paying less on loans, while their tendency to invest heavily in bonds is set to bolster interest income once market rates begin to rise. Consumers in Germany, France or Spain will barely see an impact on net interest income.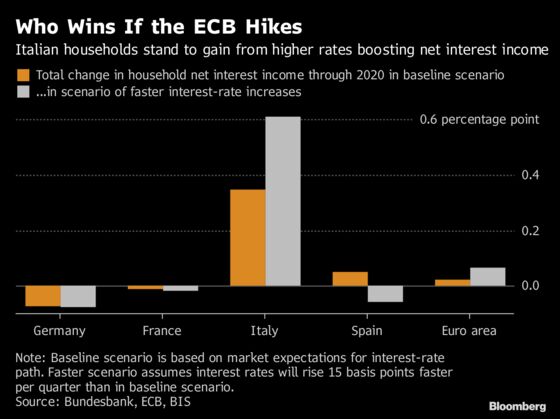 "Compared to other countries, interest-bearing net financial assets are particularly high in Italy," the Bundesbank said. "Private households in Italy could benefit significantly from a normalization in interest rates."
The opposite is the case for Italian companies, whose interest-bearing liabilities are significantly higher than assets, the Bundesbank said. Still, with increases in borrowing costs likely to proceed more gradually than in the past, the researchers assume they probably won't lead to a significant deterioration in the euro-area economy.
Italy's central bank has been a champion of ultra-low European Central Bank interest rates and large-scale asset purchases, and some government officials have criticized policy makers' plans to gradually rein in stimulus.