Fed's Bullard Sticks With His Outlook for One More 2019 Rate Cut
Federal Reserve Bank of St. Louis President James Bullard said policy makers have already taken steps to account for trade-war uncertainty and he currently only forecasts one more interest rate cut this year.
"U.S. monetary policy cannot reasonably react to the day-to-day give-and-take of trade negotiations," Bullard said Tuesday in a presentation to the National Economists Club in Washington.
"We will have to see how the data rolls in between now and the meeting," Bullard told reporters after his speech. "Sitting here today" he added, his outlook has not "changed dramatically from June" when he penciled in half a percentage point of easing by year-end.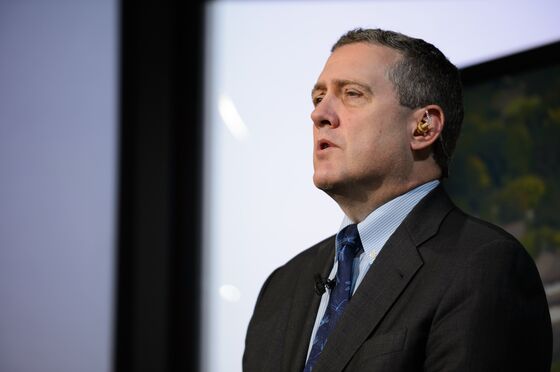 Bullard dissented in June in favor of a quarter-point rate cut, which the Federal Open Market Committee delivered in July. His reluctance to signal the need for lower rates now suggests hesitation at the central bank on making a second straight reduction when officials next meet in September.
"I have been one of the more dovish members of the committee, but you certainly can point to relatively strong GDP growth, relatively strong labor markets," he said. "There is a case to be made, I think, for doing less, and that is where the push and pull is on the committee."
Bullard said he would "like to do more" to get inflation and inflation expectations higher.
Markets are putting 100% odds on the FOMC cutting interest rates at the Sept. 17-18 gathering, after trade tensions between President Donald Trump and China escalated in the past week. Fed Chairman Jerome Powell called last week's quarter-point cut a "mid-cycle adjustment" to policy rather than the first in a long series of moves.
In June, quarterly Fed projections showed seven of the 17 officials forecasting 50 basis points of easing by the end of 2019.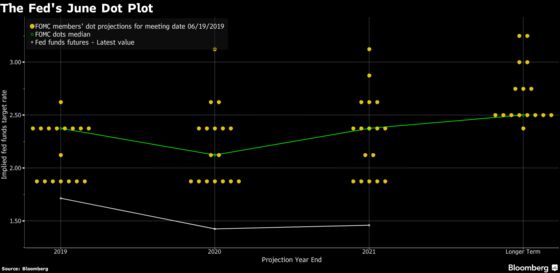 The St. Louis Fed president said the FOMC has already adjusted policy significantly this year in expectation of slowing growth and trade uncertainty, leading to lower market interest rates. Ten-year Treasury yields have fallen around 30 basis points to 1.71% since the Fed cut rates last week as investors' concerns intensified amid a fresh escalation in the U.S.-China trade war.
"While additional policy action may be desirable, the long and variable lags in the effects of monetary policy suggest that the effects of previous actions are only now beginning to impact macroeconomic outcomes," Bullard said in his presentation.
Moreover, Bullard said policy makers may need to get used to greater trade uncertainty.
"I do not expect this uncertainty to dissipate in the quarters and years ahead," he said, adding this is likely chilling business investment and feeding into slower global growth.
Growth this year has been expected to slow from 2.5% in 2018, Bullard said, but "a key risk has been that global trade uncertainties may cause this slowing to be sharper-than-anticipated."
In addition, he said inflation pressures remain muted, with both prices and expectations falling short of the committee's 2% target. Also, a more meaningful inversion of the yield curve continues to pose a threat, he said, noting that such a phenomenon "has tended to predict the onset of recession in the U.S. during the postwar era."