Brussels Edition: Anti-Austerity 'Earthquake'
(Bloomberg) -- Welcome to the Brussels Edition, Bloomberg's daily briefing on what matters most in the heart of the European Union.
Brace for more grandstanding and heightened tensions as we enter the final week before Italy submits its budget to Brussels. In a taste of what's to come, Deputy Prime Minister Luigi Di Maio shrugged off the European Commission's rejection of his fiscal plans, predicting that elections to the bloc's parliament next year will bring an "earthquake" of anti-austerity sentiment. "The rules will change the day after," he told Corriere della Sera. It's a blunt message for bond markets, with Italy's 10-year yield already hovering close to a four-year high.
Cliff Edge | Two hearings in the European Parliament later today may yield interesting news for EU-based financial firms. The heads of the bloc's three financial supervisors will appear before the committee for economic and monetary affairs, at a time when talk about managing the risks posed by Brexit is getting louder. In a different room, lawmakers will debate the tricky institutional talks with Switzerland, with traders in Swiss stocks awaiting clarity on whether they can still access the Zurich stock exchange from next year.
Brexit Barometers | The chances of a Brexit deal have increased over the past few days, Commission President Jean-Claude Juncker  told Austrian newspapers, striking a more positive note ahead of an Oct. 17 summit. Meanwhile, the EU is set to offer the U.K. a free-trade deal deeper than any that's gone before but will reject Theresa May's demand for "frictionless trade," EU diplomats say.
Less Power | Carmakers arediscovering there are limits when it comes to influencing EU climate policy. A decade after the EU went easy on manufacturers with its first carbon dioxide caps, the bloc will likely get tougher this time. EU environment ministers will tomorrow discuss the limits slated for 2025 and 2030.
Macron Reshuffle | French President Emmanuel Macron is preparing broad changes within his government to jump start his presidency and draw a line under months of scandals and political setbacks. He is readying for "an important rebound," according to his office. The new cabinet is expected to be announced on Tuesday, Journal du Dimanche reported.
Latvian Results | A populist surge wasn't enough to dislodge pro-Western centrist parties that have ruled Latvia for more than 25 years. While the governing coalition lost ground at elections on Saturday, Prime Minister Maris Kucinskis said newly formed parties with similar ideologies can join to represent a majority in parliament. That would once again lock out the Russia-leaning Harmony.
Migration Clash | Italy's other deputy prime minister, Matteo Salvini, made his own headlines this weekend, saying his country won't let unauthorized flights land from Germany carrying non-European migrants. That's likely to further intensify a clash with the EU over rules dictating that asylum-seekers make their request in the first state in which they set foot.
Gay Marriage | A referendum in Romania to enshrine a ban on same-sex marriage in the constitution failed because of low turnout. Opposition groups had criticized the initiative as a government attempt to deflect attention from an escalating spat with Brussels over judicial independence.
Trump Effect | Europe needs to bolster its unity to stave off international challenges, according to French Finance Minister Bruno Le Maire. But the biggest reason for the European Union to come together? U.S. President Donald Trump. Speaking at a conference in Slovakia, the French finance chief said the U.S. president was "the best incentive for a stronger Europe."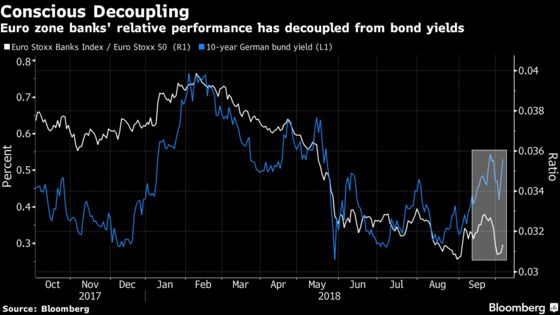 Bond yields may be rising in Europe, but that's not helping the region's banks. Typically, euro-zone lenders' relative performance moves in tandem with yields, since higher rates are good for profitability, but the two have decoupled lately. While that's because concerns over Italy's budget and emerging markets are weighing on the sector, the divergence from yields suggests room for outperformance later, according to Credit Suisse.
3 p.m. The European Parliament's committee on foreign affairs discusses relations with Switzerland
3 p.m. The European Parliament's economic affairs committee holds a regular hearing with EU financial regulators
EU Commission President Juncker delivers the opening speech at the European Week of Regions and Cities
EU Foreign Policy chief Federica Mogherini in Barcelona, delivers a speech at the Regional Forum of the Union for the Mediterranean; also visits Lisbon, meets with Portuguese Prime Minister Antonio Costa