Britons Are Hunting Fruit Picker Jobs Usually Held by Immigrants
(Bloomberg) -- Britons are seeking out the kind of agriculture jobs usually performed by immigrants as the coronavirus pandemic turns the U.K. economy on its head.
As the country went into lockdown, businesses shed workers, gig work dried up and reports circulated that travel restrictions and illness could leave crops that are usually harvested by seasonal workers from abroad to rot in the fields. That's propelled searches for fruit picking positions among U.K.-based users of the jobs site Indeed, which are up almost 8,000% between March 18 and April 1.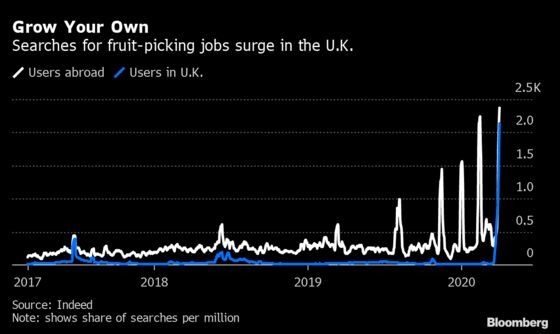 As much as 75% of the mostly eastern European workforce that usually comes to the U.K. to help with the harvest may not be able to make it this summer, the Country Land and Business Association said. While Brexit may play some part in their decisions, there aren't yet any changes to rules for migrant labor since the U.K. left the European Union in January.
Factoring in illness, the lobby group estimates a shortfall of around 80,000 employees and has called on U.K. nationals -- who usually account for less than 1% -- to take up the roles instead.
That's prompting newspapers to evoke wartime slogans such as "Dig for Victory." Applications are up 83% in the last month, according to another hiring website Totaljobs.
"The huge rise in searches for fruit picking jobs shows how rapidly jobseekers respond to hiring announcements in the current environment," said Pawel Adrjan, head of EMEA research at Indeed. "This shows how urgently many people need a job right now."