British Workers Spend More Time at the Office as Lockdown Eases
(Bloomberg) -- Discover what's driving the global economy and what it means for policy makers, businesses, investors and you with The New Economy Daily. Sign up here
U.K. workers are returning to the office, providing further evidence that life is getting back to normal as coronavirus restrictions are gradually lifted.
The findings are contained in the latest Morgan Stanley AlphaWise survey, which showed Britons spending more than 40% of their time at their usual place of employment last month compared with a third as recently as February. The figure is still well below those in other European countries.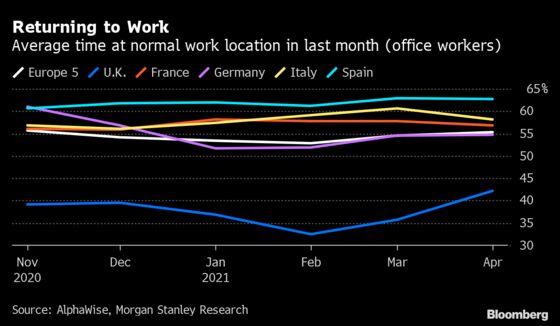 The pickup reflects falling Covid-19 cases and a successful immunization program that has now delivered an initial dose of a vaccine to more than 60% of adults. It will come as a relief to those who fear that many office workers have become used to operating from home, potentially holding back the economic recovery in urban areas such as London.
On average, U.K. workers expect a return to the office in mid-August, two months after all remaining curbs are due to be lifted under plans set out by Prime Minister Boris Johnson, the analysis found.