Britain's Beleaguered Retailers Had Worst Christmas Since 2008
(Bloomberg) -- The woes for U.K. retailers are mounting as new report suggests that 2018 was their worst Christmas since the financial crisis.
(Follow retailer earnings on Bloomberg's TOPLive blog here)
Shops saw no growth in sales in December compared with a year earlier, the worst performance in a decade, and fell 0.7 percent on a like-for-like basis, according to industry figures. They came as investors awaited holiday updates on Thursday from supermarket chain Tesco Plc, along with retailers Debenhams Plc and Marks & Spencer.
A separate report from Barclaycard showed consumer spending grew just 1.8 percent last month from a year earlier as Britons cut back on essentials and supermarket food. That's the smallest increase since 2016 and a decline in real terms after adjusting for inflation.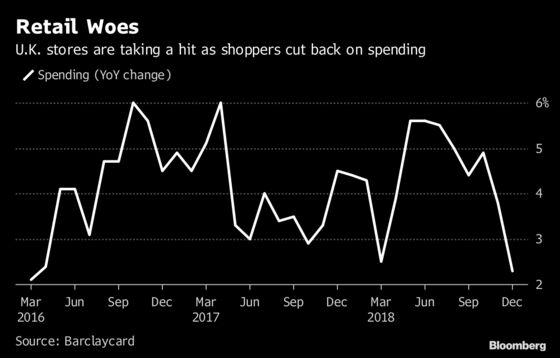 The data are the latest to show the perilous state of U.K. retailers, who suffered a tough 2018 amid increasing concerns over Brexit and the rise of online shopping. The political uncertainty is denting consumer confidence, and the Bank of England sees no improvement in spending growth this year.
On Tuesday, David Potts, chief executive officer of Wm Morrison Supermarkets Plc, said that consumers have become "increasingly savvy and cautious of the political situation in the country, how that may unfold in 2019 and how it may affect them personally."
The situation is also hurting retailers' shares. The FTSE 350 General Retailers Index has fallen 19 percent since the end of 2017, almost double the loss of the FTSE 350 itself.