Brazil's Top Chicken Producer Gears Up for Supply Disruptions From Pandemic
(Bloomberg) -- Top Brazilian chicken producer BRF SA is preparing for possible processing bottlenecks as the coronavirus spreads in the South American meat-producing giant.
The Sao Paulo-based company is controlling chick volumes to avoid having to cull birds if slaughtering capacity drops, Chief Executive Officer Lorival Luz said Monday in a conference call. That will result in lower chicken production in the second quarter, he said.
Processors will struggle to maintain output levels if rising Covid-19 cases prompt local authorities to order more plant shutdowns. On Friday, BRF had its first plant halted by a judge.
"Depending on measures taken by local authorities, we may see some difficulties that may lead to a supply shortage," Luz said.
The company is also removing workers who have had contact with sick people as a preventative step. To offset staff absences, BRF is hiring as many as 5,000 temporary workers. The company has about 80,000 people in operational activities.
"Brazil is not immune to the pandemic," Luz said. "We have been taking all measures to avoid contamination, but it may happen outside the plants, and it may happen fast in a certain region, leading to a drop in our production capacity."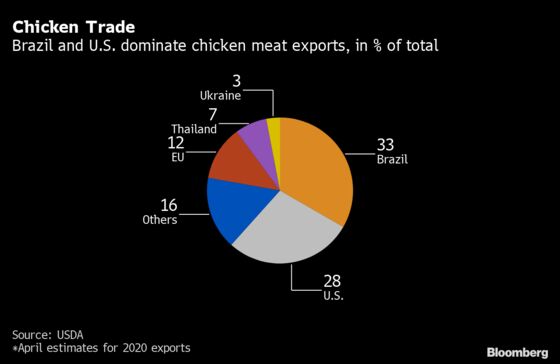 Still, he said Brazil probably will avoid the kind of widespread meat disruptions seen in the U.S. in the past month. The South American nation is in a better position to fight the virus after implementing measures in advance, he said.
On the demand side, BRF sees only a slight net impact as a food-service slump is offset by higher retail sales. China's demand for meat will remain strong, and chicken could be favored in tough economic times because it is cheaper than beef and pork, he said.
BRF SA reported profit that topped estimates amid rising export demand, specially from China, increasing sales in Brazil and a boost from the local currency slump on revenues. Shares rose as much as 15% in Sao Paulo.
Shipments to China soared 90% from a year earlier with more plants winning approval for exports. Prices to the Asian nation in dollar terms rose 25% after African swine fever decimated the hog herd, boosting demand for pork and meat alternatives.