Brexit Worry Drags U.K. Business Optimism to Lowest in a Year
(Bloomberg) -- U.K. businesses are getting increasingly nervous about Prime Minister Theresa May's ability to pull off a Brexit deal.
Optimism in Britain's economy slumped in October to the lowest level this year, with confidence falling in almost all parts of the country, Lloyds Bank said in a survey published on Wednesday. The concern is spread across firms of sizes, with both bigger and smaller companies more worried about U.K.'s impending exit from the European Union, according to the survey.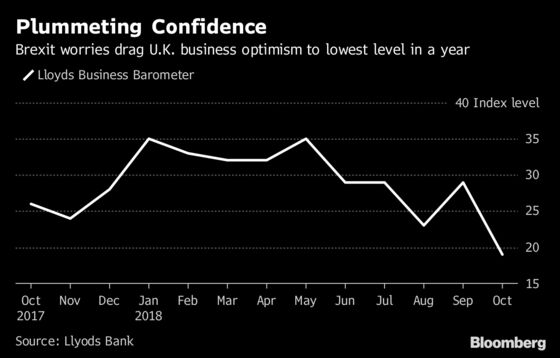 Brexit negotiations remain deadlocked as differences within May's own party prevent any compromise at home. There's still no clear road-map on future trading conditions with the bloc, while a no-deal divorce could result in chaos after March 29, the formal date of exit.
U.K. consumer confidence also dropped in October, a separate report by GfK showed.
The index is poised to fall further "with no immediate prospect of any feelgood news impacting our hearts, minds and wallets," said Joe Staton, client strategy director at GfK. "It looks like the U.K. government will need to administer an exceptionally strong tonic to the nation to settle the obvious Brexit anxieties."
The effects were visible on shop floors as well. Lower consumer demand and stiff competition forced retailers to cut prices on clothes and electrical items in October, the British Retail Consortium and Nielsen said in a separate report. Prices fell 0.2 percent during the month, and that trend may continue, according to the report.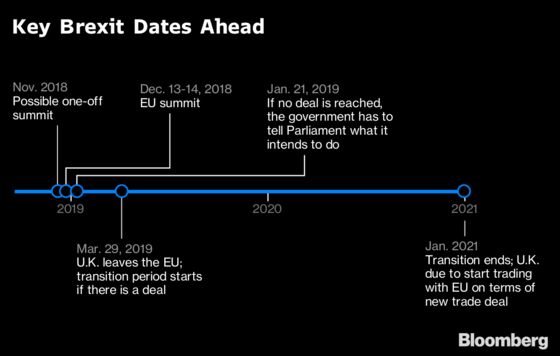 "Consumers remain uncertain about when and where to spend and with Christmas promotions now kicking in, competition for share of wallet will intensify in both food and non-food retailing," said Mike Watkins, head of retailer and business insight at Nielsen. "We can expect retailers to offer some additional incentives to encourage shoppers to spend."