Brexit 'Queues at Dover' Can't Be Solved by Bank of England
(Bloomberg) -- The Bank of England can't do much to counter economic damage from supply problems if Britain exits the European Union without a comprehensive agreement, policy makers said.
Should the British government fail to clinch a divorce agreement, the U.K. would crash out of the bloc into an uncertain environment -- with tariffs under World Trade Organization rules -- that risks freezing markets and snarling trade. To prepare for any bottlenecks, the government has a plan to turn part of a major highway near the port of Dover into a holding area for trucks.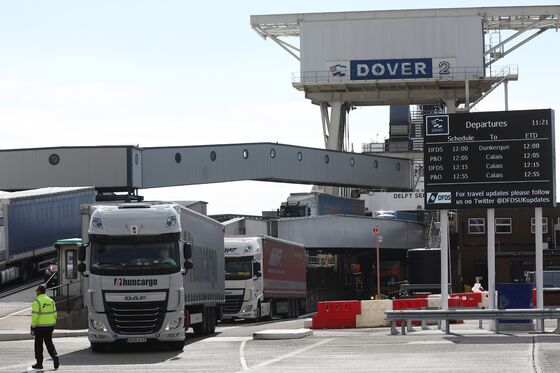 "An early move to WTO with no transition would be a major negative supply shock for the U.K. economy, and there's really very little monetary policy can do to offset that," policy maker Michael Saunders told a parliamentary committee on Tuesday. "If you have queues at Dover, the answer is not lower interest rates."
The BOE officials, led by Governor Mark Carney, warned that a gap between supply and demand could, combined with a slumping pound, push up consumer prices. Their responsibility is to control inflation, which could mean tighter rather than looser settings.
In their comments, the policy makers effectively endorsed the transition deal with the EU agreed by Prime Minister Theresa May.
Saunders also said Britain's economic growth will likely slow in the coming quarters, with firms being tempted to defer some investments and hiring.
"The risk of a no-deal Brexit has become more visible" and "that may have some effect on near-term economic activity, a negative effect," he said. "Most businesses are not prepared for a no-deal Brexit and don't really know how to prepare."