Brexit Jobs Boom Has a Flip Side That's Holding the Economy Back
(Bloomberg) -- Booming employment, a rare bright spot for the British economy, also has a dark side.
The country's record-breaking job creation shown in Tuesday's data may be coming at the cost of investment, which will hurt in the longer term. The idea is that firms are hiring people rather than buying new machinery or software because it will be easy to let them go if they need to change course.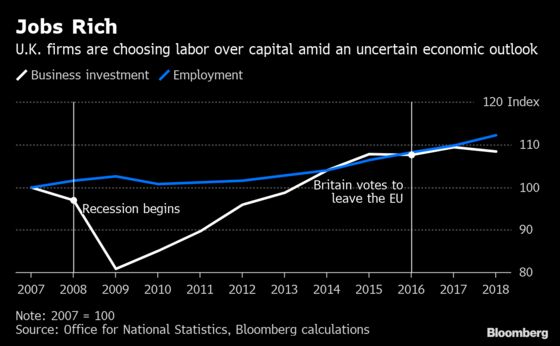 And with just over a month until Britain is due to leave the European Union and no withdrawal agreement yet secured, the risk of a jobs retrenchment is rising. The precariousness of the strong employment figures was highlighted by Japanese carmaker Honda Motor Co.'s decision on Tuesday to close its U.K. factory in 2021, leading to thousands of job losses.
"Over the last several years you've had a slowdown in capital investment and that has actually fueled a labor boom," said Sanjay Raja, a U.K. economist at Deutsche Bank AG in London. "In a no-deal scenario, it's likely that we would see both investment and employment contract."
The bad news is piling up ahead of the Brexit deadline, from the collapse of regional airline Flybmi to vacuum-maker Dyson Ltd.'s decision to move its headquarters to Singapore.
U.K. investment has dropped for four consecutive quarters, leading to a sharp cooling in overall growth in the fourth quarter and forecasts for the worst performance since the financial crisis in 2019. The slowdown is coming despite the lowest unemployment since the 1970s.
A preference for labor over capital has been a trend in the U.K. since the financial crisis, and Bank of England policy maker Gertjan Vlieghe highlighted the problem in a speech last week.
"When uncertainty rises, but demand is still robust, it makes sense for businesses to meet that demand by expanding their workforce rather than by increasing investment spending," he said. "Employment decisions are less costly to reverse."
The BOE sees investment falling further this year, and surveys show manufacturers are more optimistic about the prospects for employment than investment. The trend has been good for workers, as figures Tuesday showed wages are now growing comfortably faster than inflation.
But it's also deepened a dire productivity problem, which has left living standards below their pre-recession levels despite recent signs that labor shortages are pushing up pay growth. Britain still lags well behind all of its Group of Seven peers bar Italy, with hourly output barely higher than its pre-crisis peak.
Brexit may also force companies to invest more in machinery if less migration means that labor shortages get worse, some economists say. On the other hand, barriers to trade could reduce demand for U.K. products, removing the urgency to increase output and productivity in the first place.
"Firms will face not just weaker external demand but rising costs as a result of tariff and non-tariff trade barriers," Deutsche Bank's Raja said. "So you'd expect firms to compensate for these costs by reducing business investment and labor."