Brexit Is Showing Signs It Will Ease Worker Drought in EU's East
(Bloomberg) -- The U.K. still hasn't hammered out its exit from the European Union, but a dwindling flow of workers from the bloc into Britain offers hope to the continent's labor-starved east.
Citing data since the 2016 Brexit referendum, Erste Group Bank AG notes a steady decline in arrivals from the EU's ex-communist contingent. And it predicts fewer will choose the U.K. after the split takes place, which would boost countries such as Poland, where unemployment is at a record low and rising wages are starting to threaten economic growth.
"If migrant workers are to return to central and eastern Europe, they could increase the labor supply," Erste said Wednesday in a research note. "Given very tight labor markets at home, they wouldn't be crowding out workers at home."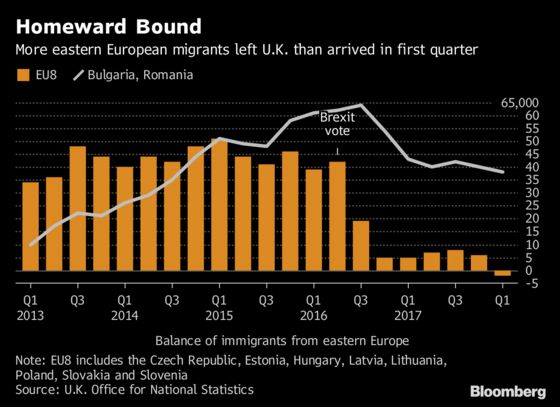 On the flip side, inflows into the U.K. from Romania and Bulgaria -- while lower -- remain strong. And, according to Erste, the majority of those already living and working in Britain will probably opt to stay.