Brexit Deal Done: Watch These Sectors as Final Hurdles Near
Now that U.K. Prime Minister Theresa May finally has her Brexit deal, she needs to convince her quarreling cabinet ministers to get behind it, before clearing it in Parliament. Neither of those tasks will be simple, but even so, breaking the impasse with the European Union's negotiators was a big positive step, and the pound's rally on Tuesday night reflects that.
Expect U.K. stocks to gain this morning then, right? Not quite. Pound strength against the dollar is often seen as a negative for the U.K.'s larger companies, like the big pharmaceutical and oil producers, as it makes their exports more expensive. About 40 percent of the combined revenue of FTSE 100 members is earned in either in dollars or in dollar-linked currencies of emerging markets and Asia, Caroline Simmons, deputy head of U.K. investment at UBS Wealth Management, said by email.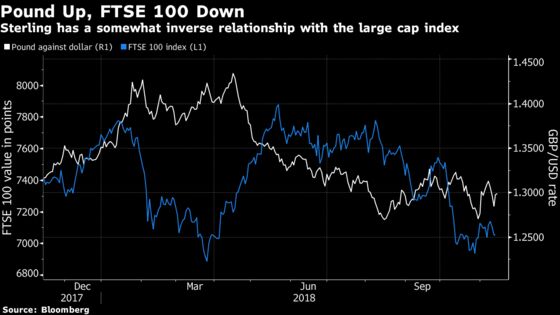 Those currency impacts will be weighed against the effects of a Brexit deal on the U.K.'s international trade. Meanwhile, domestically focused firms that are less dependent on export revenue and more influenced by the U.K.'s economic growth may be the biggest beneficiaries.
Here's a summary of some of the sectors and stocks to watch:
The investment-banking giants of the City and Canary Wharf have been hamstrung by Brexit uncertainty, which has threatened to disrupt their means of moving money across borders. But while this morning's news should provide relief for the big international names such as Barclays Plc and HSBC Holdings Plc, smaller, domestically focused institutions like Lloyds Banking Group Plc have faced a bigger Brexit risk, according to Citi.
Those lenders would have been more exposed to a possible contraction in U.K. growth in a no-deal scenario, as well as lower-for-longer rates and any potential change of direction in the credit cycle, analyst Andrew Coombs wrote in a note. So-called challenger banks -- newer firms like Metro Bank Plc, which are looking to grab market share from high street incumbents -- could have been hurt most, Coombs adds.
Real estate has been one of the worst-hit sectors since the 2016 vote, with homebuilder Redrow Plc warning as recently as last week that the London market, in particular, has remained subdued due to Brexit.
Fears of an economic slowdown have weighed on property demand, and in turn, prices -- the Royal Institution of Chartered Surveyors' index of prices fell to the lowest in six years in October. Meanwhile, the sector's labor supply could be hit by a cutback in immigration, while the cost of imported materials could also rise.
But while news of a Brexit deal should give U.K. homebuilders a lift, it could be a negative for firms catering to Britons relocating abroad. French builder Nexity SA fell last week on apparent concern that a divorce deal will mean fewer Britons house-hunting in the country.
The U.K.'s London Stock Exchange Group Plc and Frankfurt-based Deutsche Boerse AG are engaged in a battle over the lucrative business of clearing euro interest-rate derivatives. While LSE's LCH Ltd. is the industry's dominant force, many banks have already connected to Deutsche Boerse's Eurex Clearing, preempting any Brexit-related instability, Christoph Blieffert, an analyst at Commerzbank, said in a note. Deutsche Boerse has enlisted several well-known interdealer brokers to help it poach business from its British rival, Bloomberg reported last month.
Brexit has had a mixed impact on publicly traded staffing firms. Economic uncertainty has reduced senior-level hiring in the U.K., weighing on the likes of PageGroup Plc and Hays Plc, according to Bloomberg Intelligence analyst Eshan Toorabally. Some, though, have suggested a potential boost for those recruiters based in locations of choice for people re-locating after Brexit.
Robert Walters Plc is "ready and waiting," said the firm's chief executive and founder from whom the company takes its name. "We're in Luxembourg, Frankfurt, Dublin, all the likely places where certain functions will move to," Walters told Bloomberg last month.
The airline industry was warned to prepare for chaos if no comprehensive trade agreement is signed. The International Air Transport Association said last month that Brexit-related risks to landing rights, pilot licenses and the trade of aircraft parts across borders could wreak havoc on the sector. Today's news is also a plus for holidaymakers: In a worst-case-scenario, Brexit could mean 95 percent fewer flights between the U.K. and Spain, IATA warned.
J D Wetherspoon Plc founder Tim Martin seizes every opportunity available to pontificate on the benefits of Brexit, but the saga has been weighing on the pub chain, and the entire sector. Not only are penny-conscious punters seeking cheaper nights out, but publicans are also having to pay their head chefs more to keep them, according to Liberum analyst Joe Brent.
And it's not just pubs -- even hamburger consumption has taken a hit, apparently. A number of restaurant chains, including Famous Brands Ltd.'s Gourmet Burger Kitchen, have warned that Brexit-related consumer confidence was hitting demand. GBK went on to start a restructuring program that will involve closing sites, and while its problems weren't entirely Brexit-driven, the event has added to the troubles of a sector that already faced reduced footfall.
The pound's devaluation since the June 2016 Brexit referendum may have made weekend trips to the London Eye and Houses of Parliament more affordable for foreign tourists, but some of that gain has been counteracted by declining business travel. Marriott International Inc. and Hilton Worldwide Holdings Inc. have both warned that the amount they're able to charge for rooms in London has been constrained by Brexit pressure. Marriott pinpointed weak demand from the financial services sector in particular.
U.K. retailers have been struck by waning consumer confidence due to Brexit, at a time when the industry is already grappling with the shift toward online shopping. Closely held department-store chain John Lewis Partnership Plc, a bellwether for the sector, saw profit for its fiscal first half wiped out, with the firm putting at least part of the blame on Brexit. The weaker pound has also led to higher import costs for retailers.
The prospect of the U.K. crashing out of the EU without a deal and a subsequent drop in the pound could have spurred higher inflation and, in turn, a squeeze on real wages that would hit consumer spending further, Moody's Chief Credit Officer EMEA Colin Ellis wrote in a report.
Auto dealerships have been struck by a sharp reduction in new car sales in the U.K., and the likes of Pendragon Plc and Lookers Plc have pointed the finger at Brexit. Year-to-date auto registrations fell 7.2 percent versus the same period a year ago, the Society of Motor Manufacturers & Traders said last week.
It's not just those selling the vehicles on forecourts who are impacted. Carmakers like Peugeot and Citroen producer PSA Group have urged the U.K. and EU to seal a deal to prevent disruptions to production. SMMT estimates 186,000 people are employed directly in automotive manufacturing across the U.K., and 80 percent of the cars made in the country are exported -- most of those to the EU.
With the U.K. importing about half of what it eats, and the majority of its food and agricultural imports coming from the EU, a lack of a smooth deal would probably hit the margins of food producers and grocers, according to Bloomberg Intelligence analysts Duncan Fox and Diana Gomes. Deal or no deal, the industry has had to plow substantial amounts into supply chain back-ups to prepare for disruptions, the analysts write. Tesco Plc-supplier Kerry Group Plc is one firm that's started doing so. Tesco itself and peers like J Sainsbury Plc would have been vulnerable to higher food input costs if supply was hindered.
Britain's biggest free-to-air commercial broadcaster, ITV Plc, has warned that TV advertising revenue is starting to fall, in a sign that Brexit is hurting the media sector. Analysts at Morgan Stanley say supermarkets and telecoms are among the industries that are reducing spending on TV time the most.
U.K. communications regulator Ofcom, while remaining neutral on the merits of Brexit, has said the pullout from the EU could cause the sector practical and commercial disruption. The prospect of firms having to negotiate separate data agreements with all their European partners has been one of the main concerns, Ofcom said.