Brexit Bulletin: Rolling the Dice
(Bloomberg) -- Today in Brexit: May is taking her deal directly to voters, as the EU reinforces her message that it's the only one available.
Boxed into a corner, British Prime Minister Theresa May is fighting her way out with a high-risk strategy. She's embarking on a nationwide campaign to take her Brexit deal to voters, in the hope that she can shift the conversation to the headline wins in the agreement — an end to uncontrolled immigration and a pledge to protect jobs — and away from the arcane matters of trade rules that obsess the political elite in Westminster.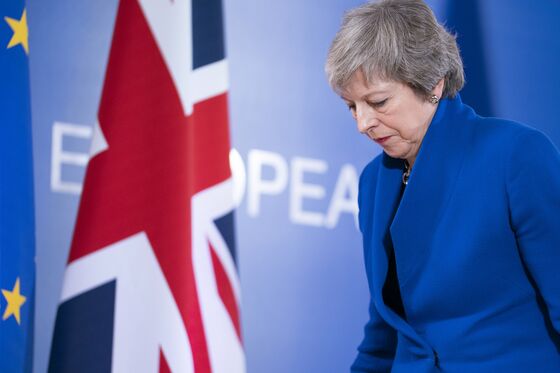 The prime minister spoke in Brussels like a politician about to call an election, and used the word "campaign" herself. Faced with implacable opposition in Parliament to her deal, she's aiming to win voters over directly and see if they can exert more pressure on lawmakers than her whips can. And while she insists it's not about her, she's staking her personal authority on the deal: She twice declined to rule out quitting if she fails to get it through Parliament. She's even challenging Labour leader Jeremy Corbyn to an election-style television debate, according to the Telegraph.
In a statement to the House of Commons on Monday, May will tell politicians to listen to their constituents and remind them that their duty is to deliver on the referendum result of two years ago.
"Our duty — as a Parliament over these coming weeks — is to examine this deal in detail, to debate it respectfully, to listen to our constituents and decide what is in our national interest," she will say. "We can back this deal, deliver on the vote of the referendum and move on to building a brighter future of opportunity and prosperity for all our people. Or this House can choose to reject this deal and go back to square one."
European Union leaders tried to help May at the summit on Sunday, with a clearly coordinated message that this is the only deal available. If Parliament rejects it, there won't be a renegotiation. Austrian Chancellor Sebastian Kurz was the most succinct : "This is a take-it-or-leave-it situation." Operation Save May — much touted but not very often pulled off at these summits — was in full swing. Dutch Prime Minister Mark Rutte said May had extracted the best possible deal from the bloc, by being such a tough negotiator. "If there was anything better, I can tell you Theresa May would have gotten it."
'Good Luck, Theresa!' Ian Wishart reports from inside the summit that EU leaders had warmer words than usual for May, as they hope she can pull off the impossible.
Macron's Fish Fight Offers May a Glimpse of Brexit Battles Ahead.
Britain's Fraught Journey to a Brexit Deal — in Pictures.
Plan B | At least two Cabinet ministers are on board with a plan to force the U.K. to remain in a Norway-style setup with the EU if May's deal fails to pass Parliament, the Sun reports. The plan would require backing from Labour MPs, and would only be made public if May's deal is rejected. Pensions Secretary Amber Rudd and Environment Secretary Michael Gove are both on board, according to the Sun.
Diplomatic Masterpiece | German Chancellor Angela Merkel called the deal a "diplomatic masterpiece" and credited European Commission President Jean-Claude Juncker and chief negotiator Michel Barnier with much of the success. Merkel has been conspicuously absent from the whole Brexit process, much to the surprise of the U.K.
Sad? No! | Angela Merkel also spoke of her "sadness" that the U.K. was leaving, a sentiment other leaders at the summit also expressed. May was asked if she too was sad. "No," she said. Still, she understood that other leaders were, and "some" at home too.
Legal Challenges | Lawsuits are piling up with the potential to change the course of Brexit. On Monday, the European Union's General Court in Luxembourg rules on a challenge by expats who argue that the EU's decision to start Brexit negotiations was illegal because they were denied a voice in the U.K.'s 2016 referendum. That's followed on Tuesday by potentially the most important Brexit case of all: The EU's Court of Justice will be asked if the U.K. could unilaterally revoke its intention to leave, and if not what must it do?
The Other Brexit Fight | U.K. businesses stand to lose access to a $1.7 trillion public procurement market if signatories to a World Trade Organization accord this week block Britain's application for membership. On Tuesday, the U.K. will seek admission to the 46-nation Government Procurement Agreement in Geneva. Failure to rejoin the pact could prevent U.K. companies from bidding on government contracts in member nations, including the $837 billion U.S. market. Each member has the power to block admittance.
On the Markets | The idea that May will eventually get her deal through Parliament, after an initial rejection and a market meltdown, is becoming market consensus, according to the chief economist of UBS Wealth Management. The problem is that because investors now expect it, the market reaction to a negative vote may not be severe enough to raise pressure on MPs, UBS's Paul Donovan told Bloomberg. The pound edged higher in early trade on Monday to $1.2822.
Want to keep up with Brexit?