Brexit Barometer Turns Up in October Amid Signs of Slowing Ahead
(Bloomberg) -- The Bloomberg Brexit Barometer firmed in October after a sharp drop in September, but remained in "windy" territory for a second straight month. The slight gain was driven mainly by improvement in an uncertainty gauge as the U.K. economy showed signs of gaining strength.
The barometer, which includes data for growth, labor market, inflation and other key economic indicators, firmed to 19.2 from a revised 18.5 in September. The October reading represents the second-lowest level since January.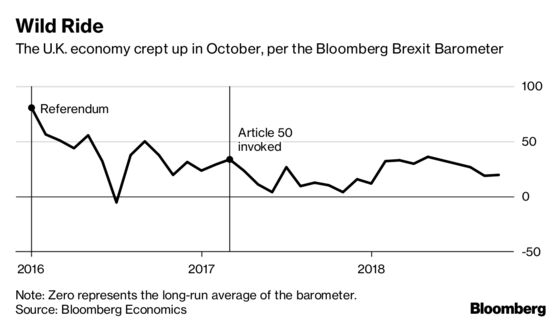 The U.K. economy posted its best calendar quarter in almost two years for the July-September period, but a loss of momentum starting in August could indicate a weaker pace of expansion as Brexit looms.
What Our Economists Say...
"There is mounting evidence that economic growth in the U.K. is slowing after a summer sizzler. And with the noise surrounding the Brexit negotiations set to reach fever pitch, the risks around the more somber outlook are tilted to the downside."
—Dan Hanson, Bloomberg Economics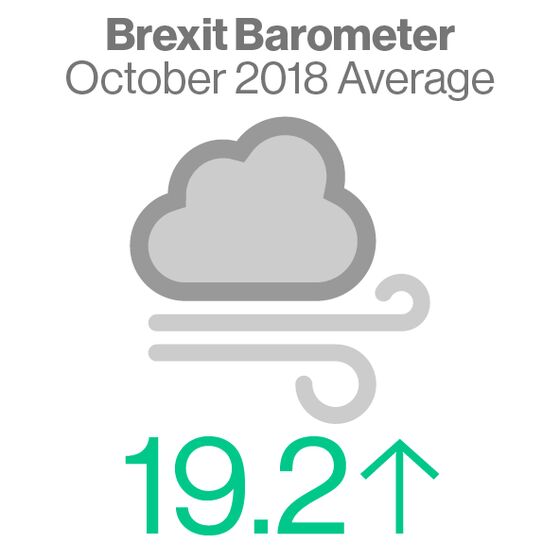 The barometer is calculated every day with the most up-to-date data available. The monthly average, used to help smooth daily volatility, gives a better sense of the underlying trend.
A measure of policy uncertainty as it relates to businesses fell last month to its lowest level since February. That offset worsening business confidence and an increase in FTSE 100 implied volatility, which rose to a 23-month high. Business sentiment in retail and wholesale industries dropped to the lowest level since May, while within the industry sector, sentiment fell to a two-year low.
With the Bank of England judging the U.K. economy to be operating at full capacity, policy makers are expected to raise interest rates at a gradual pace to keep inflation in check, but not until after Britain leaves the European Union in March, with or without a deal.
The March 29 departure deadline is bearing down and Prime Minister Theresa May is still finding a deal elusive. Domestic opposition is building to her latest plan and an expected cabinet meeting to approve it has been put off. She remains flummoxed by the issue of keeping the Irish border free of police and customs checks without binding the U.K. to EU rules indefinitely. Parliament must approve whatever withdrawal deal emerges—if it does. The chances of a no-deal scenario remain high.