Brexit And Pandemic Double Whammy Hit Ireland in Early 2021
(Bloomberg) -- Ireland's economy took a double hit in January as the impact of renewed pandemic lockdowns was aggravated by post-Brexit trade chaos.
A measure of service-sector activity plunged to an eight-month low, with transport, tourism and leisure services particularly badly affected. The AIB gauge, based on a survey of purchasing managers, fell to 36.2 from 50.1.
Orders for both services and manufacturing slid, with Brexit disruptions showing up in longer supplier delivery times.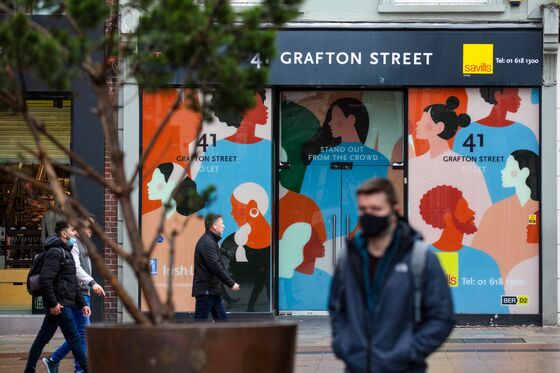 Ireland is in its third lockdown to contain the spread of more contagious virus strains, and has extended curbs - among the strictest in Western Europe - to the start of March. New trade rules with the U.K. following its exit from the European Union have thrown up extra hurdles that have upset deliveries and boosted costs.
Still, Irish businesses are optimistic about the outlook for the year. Firms expect vaccines against Covid-19 to reduce the need for future lockdowns, allowing for a rebound in the second half.
A Purchasing Managers' Index for the euro area showed services activity shrinking for a fifth month and at a steeper rate than in December.