Brazil Turmoil Proves Tough Going for Agribusiness Firm Cargill
(Bloomberg) -- Cargill Inc.'s profit margins in Brazil, where the agribusiness giant has its largest investments outside the U.S., were the narrowest in four years in 2018.
While currency moves and higher sales volume probably pushed up revenue from Brazil by about 18 percent to 40 billion reais ($10.7 billion) last calendar year, a truckers strike raised costs and higher domestic soybean prices squeezed processing margins, said Luiz Pretti, who heads Brazilian operations.
Cargill runs 23 plants in Brazil, from soybean and corn processing to food ingredients and biodiesel. Eighteen of those were halted for weeks during the strike, Pretti said. To end the protests that wreaked havoc on Latin America's largest economy, the government introduced a minimum for road-freight rates that in some cases doubled prices, according to processor group Abiove.
For Cargill and other soybean crushers in the country, the hit from pricier logistics was magnified by a surge in Brazilian oilseed prices as China sought alternatives to American-grown beans amid the trade war.
"We don't see soybean crushing margins rebounding in 2019," Pretti said in an interview in Sao Paulo. "It will be a tough year."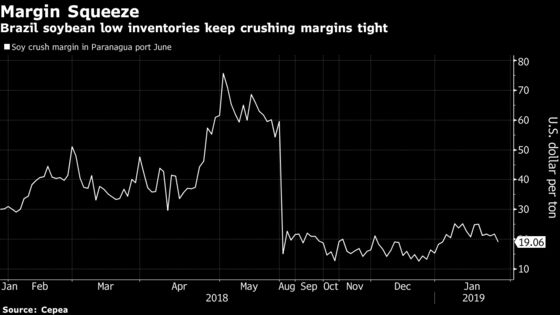 Still, Cargill managed to post company-wide trading gains for its fiscal second quarter, showing that big agribusiness companies with a global reach can exploit volatile markets amid President Donald Trump's trade dispute with his Chinese counterpart Xi Jinping.
The closely held firm is scheduled to release results for the three months through February on March 28.
In Brazil, the firm navigated the turbulence generated by the truckers' strike and presidential elections to maintain its investment plans, Pretti said. It completed a 560 million-real spend, mostly to conclude logistics projects to ship more grain in the northern region such as expanding the Santarem terminal in Para state.
The largest U.S. company by sales in Brazil, Cargill also plans to grow its consumer-products business, which in Brazil includes cooking oil, mayonnaise and tomato sauces, said Laerte Moraes, head of starches and sweeteners for Cargill in South America.
The firm continues to seek acquisition opportunities, he said.
As an ingredients supplier to food companies -- including Kraft Heinz Co., Unilever NV and Nestle SA, Cargill can't compete with its own clients, Moraes said.
"So we're looking for opportunities to acquire brands in the same shelf we already are, taking care not to enter the segments of our ingredient customers," he said.