Bolsonaro Seeks Higher Bank Levy to Pay for Fuel Tax Break
(Bloomberg) -- President Jair Bolsonaro plans to increase taxes on financial institutions while eliminating them on diesel and cooking gas in a bid to shore up his popularity during the pandemic.
Banks will see a levy known as CSLL rising to 25% from 20% while credit cooperatives and insurance companies will have it going up to 20% from 15%, according to a provisional decree published in the official gazette on Tuesday. Meanwhile, the government will halt the so-called PIS/Cofins tax on diesel for March and April and permanently eliminate it on gas used by households for cooking.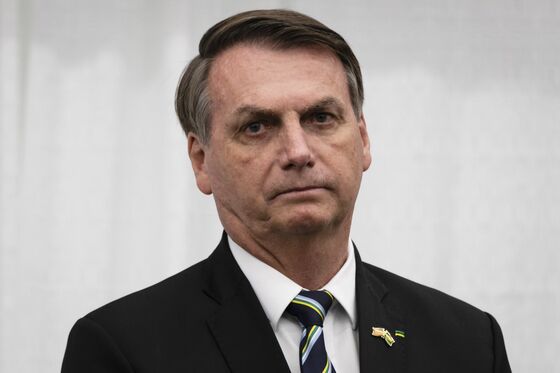 "Those two months are the period we have to find out how we're going to permanently eliminate federal taxes on diesel," Bolsonaro told supporters in front of the residential palace as he tries to make good on a promise made to truckers who have been threatening a strike.
While tax increases need to be approved by congress, reductions are automatic and can take effect immediately, potentially creating a fiscal time bomb should lawmakers block the measure.
Traders worried about Brazil's fiscal outlook increased bets that policy makers will be forced to hike the benchmark interest rate by at least half a percentage point later this month. The Brazilian real lost 1.5% even after the central bank stepped in with a spot sale of dollars.
Bolsonaro's decision comes a little over a week after he fired the chief executive officer of state-owned oil company Petrobras, saying fuel prices lacked clarity and were constantly increasing. It is part of his efforts to defuse the possible trucker strike while making a nod to poor Brazilians who are suffering the economic impact of the pandemic.
The government is also rushing to approve another round of monthly cash handouts to the poor this year, with discussions set to begin in congress on Tuesday. The first round of aid expired in December, and since then Bolsonaro's popularity has been sliding toward all-time lows.
Brazil's banking lobby Febraban said that, while it understands the difficult moment the country is going through, the tax system has become so distorted that it's hindering productivity.
"Banks have already been contributing to the economy and society during the pandemic and, with this tax increase, are called to contribute even more," Febraban President Isaac Sydney said in a statement. "We're sure this is a temporary and circumstantial measure."
The tax breaks will reduce government revenue by 3.67 billion reais ($651 million) this year, 922 million reais in 2022 and 945 million reais in 2023, according to a statement from Bolsonaro's office.
It's unclear whether the government will find enough support to approve higher bank levies to make up for those losses, which may further undermine Economy Minister Paulo Guedes's austerity drive.
Guedes, who has been working to ensure congress approves austerity measures as compensation for another round of Covid cash, said he still has the support of Bolsonaro and congress to keep going in the direction he considers right.
"If I have to push Brazil down the wrong path, I'd prefer not to," he said in an interview aired on Tuesday morning. "I'd rather leave."
Rising diesel prices largely affect truck drivers who paralyzed the country in 2018 with a nationwide strike that blocked cargo transportation.