Brazil Expected to Oust Vietnam as World's Top Robusta Coffee Grower
(Bloomberg) -- Brazil, already the king of arabica coffee, is poised to soon claim the title for robusta beans used in espresso and instant brews.
That's according to Carlos Mera, a London-based analyst for Rabobank International, known for its agricultural research. Brazil is gaining an advantage over Vietnam, currently the world's top robusta grower, because the nation's producers are rapidly adopting new technology that can help boost production. At the same time a slumping currency in the South American country is encouraging exports priced in dollars.
It could be just a few years before Brazil overtakes Vietnam, Mera said.
"For that to happen, we need the real to stay relatively weak," he said in a telephone interview.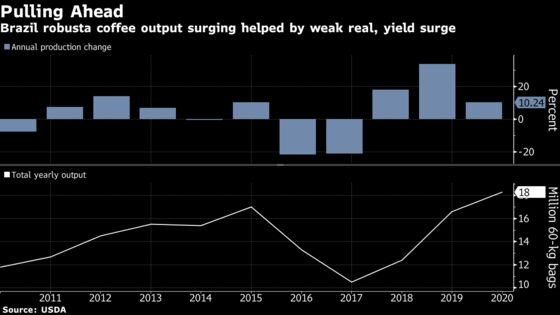 In Brazil's Rondonia state, plantings of new robusta tree varieties are churning out annual yields of 200 bags to 300 bags per hectare, Mera said. Ample irrigation is also boosting output. Meanwhile, an aging Vietnamese tree population is keeping average yields close to 50 bags per hectare, he said. A bag weighs 60 kilograms (132 pounds).
Brazil's robusta production is expected to surge 75% in the 2019-20 crop year from 2017, the end of three-year drought period that hampered crops. Even while some of the gain is magnified because of the lower starting level, the South American country is well outpacing Vietnam's growth of 14% over the same period.
Brazil's increasing dominance is bad news for producers in the rest of the world. The country's soaring production along with the depreciating currency has helped send prices to multi-year lows for both major coffee varieties, with robusta futures this week reaching the lowest since at least 2008. The dismal prices are pushing farmers out of the business in Central America and other areas where costs are higher and currencies are holding up better against the dollar.