Brazil Keeps Low-Rate Guidance as Markets See Inflation Risk
(Bloomberg) -- Brazil reinforced plans to hold its benchmark interest rate at a record low for the foreseeable future, downplaying encroaching inflation risks in a move that dragged the currency down.
The central bank, led by its President Roberto Campos Neto, late on Wednesday kept the Selic steady at 2% for a second meeting, as expected by all analysts in a Bloomberg survey. In a statement, policy makers not only wrote that conditions for their forward guidance continue to hold but went as far as keeping the door open for a small rate cut, a possibility that many investors had expected them to rule out.
"The current fiscal regime has not been changed; and long-term inflation expectations remain well anchored," bank board members wrote in the statement.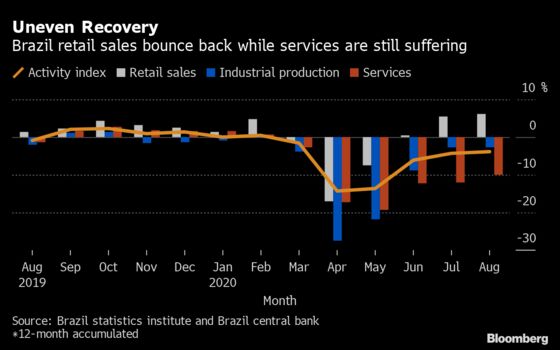 The central bank introduced its forward guidance in August when it signaled plans to keep borrowing costs at a record low as long as inflation expectations remain below target. Since then, Brazil's interest rate curve has steepened as traders, worried about government overspending, price in bets of rate increases starting as soon as January.
"The central bank was more dovish than market anticipated, downplaying the inflation shocks as temporary," said Joao Rosal, chief economist at Guide Investimentos. "While they do acknowledge the fiscal risks, they kept the door open for an additional rate cut."
Latin America's largest economy is staging an uneven recovery with the help of substantial monetary and fiscal stimulus implemented during the coronavirus crisis, including billions of dollars in cash handouts to informal workers and loans to struggling companies. Inflation remains below target although a jump in food and fuel prices, coupled with a persistent exchange rate depreciation, led the central bank to raise its projections for consumer prices for the remainder of the year.
The government is spending this year about $57 billion on monthly stipends that, while keeping vulnerable Brazilians afloat during the pandemic, have pushed the country's finances to the brink of a crisis. Top policy makers including Campos Neto and Economy Minister Paulo Guedes have called for a return to belt-tightening measures as public debt nears 100% of gross domestic product.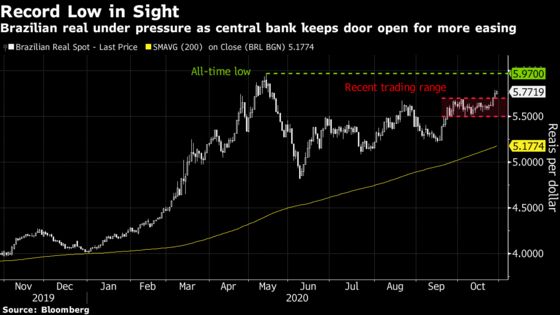 Record-low borrowing costs coupled with economic uncertainties have also undercut the appeal of the real. The currency, which tumbled on Wednesday before the central bank stepped in with its biggest spot auction of dollars since March, fell 0.5% to 5.7758 per dollar in early morning trading on Thursday.
What Our Economist Says

"There were some hawkish elements in the statement – the higher inflation forecasts, the return of underlying inflation to the center of the target, the increased risk of events that lead to upside risks for inflation. But they will probably be obfuscated by the maintenance of the forward guidance and of the possibility of an additional, small rate cut. If we are right in our view that the markets will read this statement as mostly dovish, we'd expect this to have a bigger influence on the currency than on rates."

--Adriana Dupita, Latin America Economist, Bloomberg Economics

For the full note, click here
To be sure, there is no shortage of headwinds to economic growth. The overall services sector is mired in a slowdown and unemployment is poised to surge to an all-time high. Moreover, an initial rebound seen in the third quarter is likely to lose steam by year-end as the government phases out at least part of the emergency aid.
In its statement, the central bank acknowledged that consumer prices have risen more than anticipated but described that as a temporary spike, adding that expectations remain "significantly below" target. The monetary authority aims for inflation of 4% this year and 3.75% in 2021.
"They were more complacent with the inflation outlook in comparison with the fiscal risks," said Tatiana Pinheiro, chief economist of BNP Paribas Asset Management. "They kept the view of a possible small space for a cut despite recognizing the short-term inflation surprise."