Brazil Defense Minister Urges Less Dependence on Medical Imports
The coronavirus pandemic shows Brazil needs to reduce its reliance on imports of key medical products from India and China, according to Defense Minister Fernando Azevedo e Silva.
The four-star general said the country must consider health as a strategic area and boost domestic production or diversify its sources of medical products as soon as the pandemic ends.
"The health minister himself has said we are 90% dependent on medical supplies from India. If there is a problem there, how will Brazil be able to produce aspirin and novalgine?," Azevedo e Silva said in an video interview, also highlighting the country's dependence on Chinese imports.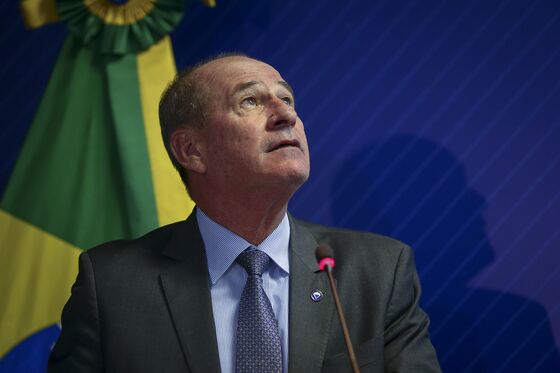 Brazil, as most countries where Covid-19 cases have risen quickly, is grappling with a shortage of masks, gloves and other medical supplies, as China and other big producers struggle to match sky-rocketing global demand. Some purchases from China have "fallen through" after the U.S. placed large orders for the same supplies, Health Minister Luiz Henrique Mandetta said last week.
In one particular incident, 600 ventilators ordered from China by the Brazilian state of Bahia were stopped in the U.S. during a connection at Miami's airport. The Chinese ventilator supplier had unilaterally canceled its contract with the Bahia state government for "technical reasons," according to a state press officer.
In a bid to stockpile medical supplies, Brazil's Congress approved legislation to ban the export of ventilators, masks, gloves, hospital beds and medical glasses during the pandemic. The legislation has yet to be signed into law by President Jair Bolsonaro.
In the meantime, the Brazilian government is considering the possibility of sending airplanes to China to pick up medical products, Folha de S.Paulo newspaper reported.
"Now, we are in the middle of the hurricane," the defense minister said, "but after this we'll need to review some fundamentals to prioritize and give advantage to domestic production. Not in the sense of protectionism, but just to see what is strategic."
He suggested the government should adopt a role in the medical industry similar to the one it plays in the defense sector, wherein it provides economic benefits to companies and maintains a say on strategic matters and exports.
Azevedo e Silva praised Bolsonaro for understanding the need for social distancing to prevent more infections while still advocating for some economic activity in order to preserve jobs. "The front line is health. But there is another wave coming that the government is concerned about and assisting with, which is unemployment," he said.
When asked about security issues related to shortages and unemployment, the minister downplayed the possibility of riots or looting.
"We can't rule it out, but I believe it's unlikely. Brazilians are very supportive and friendly," he said. "It's part of our culture, part of our way of acting and thinking."