Brazil Nods to More Easing Amid Double-Digit Tumble in Activity
(Bloomberg) -- Brazilian policy makers left the door open to more monetary easing amid growing doubts that Latin America's largest economy would quickly recover from the devastation caused by the coronavirus pandemic.
The central bank's board, led by its President Roberto Campos Neto, on Wednesday cut the benchmark Selic rate by 75 basis points to 2.25% in the eighth straight reduction. The following morning, the bank said its economic activity index for April, seen as a proxy for gross domestic product, tumbled 15.09% from the previous year.
In a statement accompanying they rate decision, policy makers wrote that uncertainty about an expected second-half recovery is "larger than usual."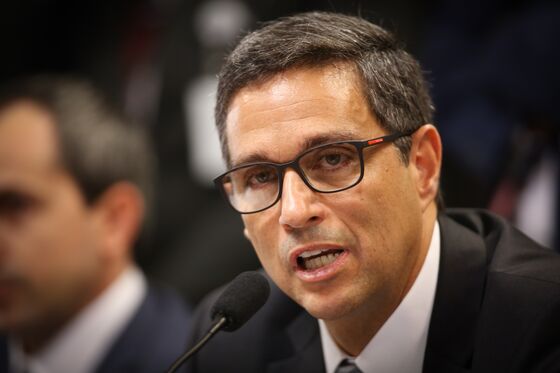 While inflation is forecast to run way below target this year and next, policy makers are debating how much lower rates could go without bringing instability to financial markets. Their conclusion was that "the remaining space for monetary policy stimulus is uncertain and should be small."
BRAZIL REACT: April Activity Swoon Sets Stage for Record 2Q Fall
The bank's monetary policy committee said that, over its next meetings, it will "evaluate the impact of the pandemic and of the set of credit and transfer programs in place" to decide on possible "residual" adjustments to the monetary stimulus in place.
Brazil extended its record-breaking easing cycle as a string of data shows historic drops from industrial output to retail amid a local coronavirus outbreak that shows little sign of slowing.
"The central bank isn't closing the door to new rate cuts," said Roberto Secemski, a Brazil economist at Barclays. "It will depend on the evolution of growth and the fiscal outlook amid the pandemic."
The rate decision came hours after Economy Minister Paulo Guedes warned that Latin America's largest economy could fall into depression if it fails to change course after the pandemic. The government has spent the past three months combating the fallout from the virus, and now must focus back on pro-market reforms to boost investment and fiscal accounts, he said.
As the pandemic stokes unemployment and overburdens hospitals, government efforts have shifted from belt-tightening measures to emergency spending. In its statement, the central bank board expressed concern that the additional spending could lead to higher-than-expected inflation if it becomes permanent.
"They acknowledge the limitations they face to lower the policy rate beyond 2.25% by stating that any additional cuts would be residual," said Gustavo Rangel, chief Latin America economist for ING Financial Markets LLC. That "probably means 25 basis points or 50 basis points at the most" in additional cuts.
What Our Economist Says

"BCB delivered the 75bps cut that nearly everyone expected, but the forward guidance came with mixed signals. On the one hand, it left the door open for a "residual" easing; on the other, a mention to "asymmetric risks" sounds like a hawkish nod. Combined, these messages seem aimed at putting a limit to the bets on further cuts. For now, we continue to see this as the final cut in the cycle, but we acknowledge that the odds of an additional cut have risen."

--Adriana Dupita, Latin America Economist, Bloomberg Economics
Economists surveyed by the central bank expect gross domestic product to plunge by 6.51% this year. They see inflation ending 2020 roughly one percentage point below the 2.5% floor of the target range while also falling short of next year's target midpoint of 3.75%.
The central bank "remains attentive to revisions of the economic scenario and of inflation expectations for the relevant horizon of monetary policy," policy makers wrote in the statement. Their own estimates also showed inflation running well below target next year in all scenarios.
Uncertainty about the pandemic's economic impact runs high as President Jair Bolsonaro continues to criticize quarantines imposed by state governors as part of efforts to slow the spread of Covid-19, saying that such restrictions will cause more harm than the virus itself.
"If activity data disappoints or inflation surprises on the downside, thus affecting expectations for following months, the central bank can cut by 50 basis points more," said Solange Srour, chief economist at ARX Investimentos.