Fed's Brainard Sees Gradual Rate Hikes Over Next Year or Two
(Bloomberg) -- Federal Reserve Governor Lael Brainard said she sees the central bank gradually raising interest rates over the next year or two, possibly to more than 3 percent, as government stimulus provides "tailwinds to demand."
In her first speech on the economy since late May, Brainard gave an upbeat assessment of the economic outlook on Wednesday, saying that growth was likely to remain "solid" while describing the labor market as "strong."
"Over the next year or two, barring unexpected developments, continued gradual increases in the federal funds rate are likely to be appropriate to sustain full employment and inflation near its objective," she told the Detroit Economic Club.
The comments add to signs that the Fed will raise its benchmark overnight federal funds rate by a quarter percentage point this month, as widely expected, from its current target range of 1.75 percent to 2 percent. Investors have also recently increased their bets on a fourth 2018 hike at the Fed's meeting in December.
Traditionally seen as a dove on the Federal Open Market Committee, Brainard this year has turned more hawkish as fiscal stimulus boosts the economy. As a member of the Fed's board in Washington, she has a permanent vote on the FOMC. She's never dissented from an interest-rate decision since her appointment by then-President Barack Obama in 2014.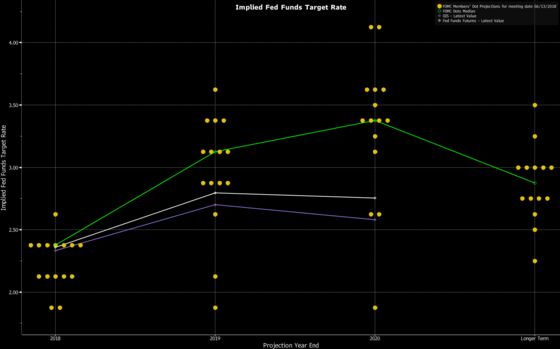 In her comments Wednesday, Brainard saw the prospect that the Fed may eventually raise rates above their long-run equilibrium level as it seeks to keep the economy on an even keel.
Policy makers peg that long-run neutral rate at 2.9 percent, according to their median estimate released after their June meeting. Brainard noted in her speech that the central tendency of forecasts -- which incorporates most policy makers' projections -- ranges from 2.5 to 3.5 percent.
The U.S. economy is on a roll. Gross domestic product expanded at its fastest clip in almost four years in the second quarter. Unemployment is near the lowest since the 1960s and wages look to be finally on the rise -- a development that Brainard called "encouraging."
GDP is being propelled forward by President Donald Trump's $1.5 trillion in tax cuts and by a $300 billion increase in government spending. A lot of that stimulus is still in the pipeline before having an impact on the economy, Brainard said.
Brainard said that a tightening labor market and loose financial conditions pose upside risks to her economic forecast. To date, though, there's no sign that's feeding through to run-away inflation.
"So far, the data on inflation remain encouraging, providing little signal of an outbreak of inflation to the upside, on the one hand, and some reassurance that underlying trend inflation may be moving closer to 2 percent, on the other," the Fed policy maker said.
As she has done before, Brainard played down the dangers posed by a potential inversion of the yield curve in the bond market.
"I am attentive to the historical observation that inversions of the yield curve between the 3-month and 10-year Treasury rates have had a relatively reliable track record of preceding recessions in the United States," she said. "But unlike these historical episodes, today the current 10-year yield is very low at around 3 percent, which is well below the average of 6-1/4 percent during the decades before the crisis."
She did, though, see some downside risks stemming from political uncertainty in Italy and turbulence in a number of emerging markets.
And while trade policy has introduced uncertainty into the outlook, "it would be hard to say there's a discernible impact in the aggregate numbers overall, either in prices, or in confidence, which, as I said earlier, is quite high," she said in response to a question after the speech.
The U.S. has imposed duties on metal imports and on $50 billion in Chinese products so far. The administration has a list of $200 billion in additional imports from China targeted for duties that could be imposed at any time, and Trump has threatened to hit virtually all products from China.
Brainard spent a good portion of her speech distinguishing between the long-run and short-run neutral rates of interest.
The former -- which policy makers provide estimates of every quarter -- is determined by such slow-moving factors as labor force growth and productivity trends. The latter, though, can move up and down in response to shorter-term forces that impact growth over the economic cycle, she said.
She pointed to evidence that suggests that the short-term neutral rate has increased, in particular noting that the job market has gathered strength even as the Fed has raised rates.