RBI Rejects Bids for Benchmark Bond in India as Yields Surge
(Bloomberg) -- India's central bank rejected all bids for its benchmark bond at an auction after yields jumped on concern the regulator's measures to support the debt market fell short of expectations.
The yield on the benchmark 10-year bond rose to its highest in over five months in early trading while corporate notes had their biggest weekly loss since May. Traders were disappointed that Reserve Bank of India Governor Shaktikanta Das on Friday didn't announce a widely expected debt-purchase calendar to help absorb the government's massive borrowings. At an auction later in the day, the central bank rebuffed bids for two notes.
Das at the end of the central bank's Monetary Policy Committee meeting said that the RBI's liquidity stance will continue to be accommodative. He announced measures including opening up the sovereign bond market to retail investors, while extending the easing available to banks under the so-called held-to-maturity norms to 2023.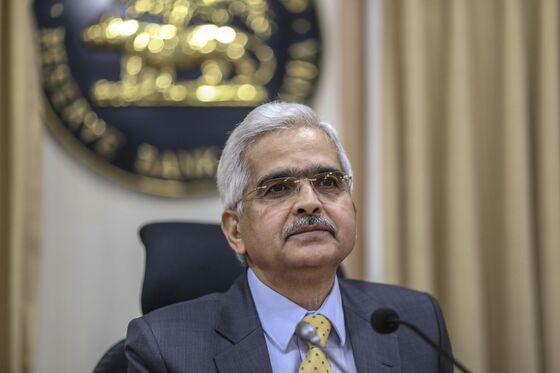 RBI's reluctance to announce bond purchases could exacerbate a selloff triggered by the government's plan to sell 12 trillion rupees ($164 billion) of bonds in the next fiscal year starting April, which comes after record sales this year.
"The RBI not coming out with open-market purchases disappointed market participants given that there were huge expectations," said Naveen Singh, head of fixed-income trading at ICICI Securities Primary Dealership in Mumbai. The more the RBI delays support, the higher the yields will move, he said.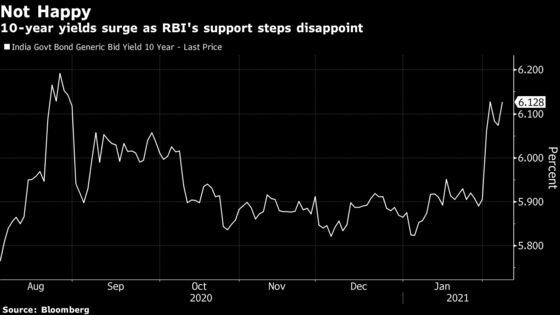 The yield on India's 10-year note climbed 17 basis points this week, the biggest increase since April. It was little change at 6.07% Friday after climbing to 6.15%, its highest since Aug. 28. Traders said yields pared gains after the RBI bought bonds in the secondary market.
The sell-off in government bonds led to the central bank rejecting all bids for the benchmark 2030 bonds and 2025 notes, while underwriters stepped in to rescue sale of two other notes.
The tussle between the Reserve Bank of India and bond traders may grow if the central bank doesn't take "convincing measures" to support the government's borrowing program, says Murthy Nagarajan, head of fixed-income at Tata Asset Management Ltd. Traders would take yields higher, he said.
Bond yields stayed anchored in 2020 mainly due to the central bank's injection of 2.7 trillion rupees through open-market bond purchases and Operation Twists where it simultaneously bought and sold government bonds.
The S&P BSE Sensex climbed 0.2%. The rupee advanced 0.1% to 72.9275 per dollar. The yield on 10-year corporate notes rose as much as 10 basis points Friday, according to separate traders. The central bank also relaxed rules for foreign investors to put their money into defaulted corporate bonds.