India's ECB-Like Move to Inject Cash Stokes Short-Term Bonds
(Bloomberg) -- Short-term sovereign bonds in India rallied after the central bank surprised traders by announcing longer-term repo operations, as it seeks to spur credit growth in the struggling economy.
In a move reminiscent of the European Central Bank's Long-Term Refinancing Operation, the Reserve Bank of India said it will inject up to 1 trillion rupees ($14 billion) via one- and three-year long-term repos at the repurchase rate starting Feb. 15.
The move, which will allow lenders to borrow cheaply from the RBI, is part of measures the central bank took to boost credit, including easing reserve norms for lending for residential housing and small businesses. The injection of more long-term cash comes weeks after the authority announced its own version of "Operation Twist," where it is buying long-end bonds and selling short-term notes to narrow term spreads.
"What it means is one can fix borrowing costs without the fear of rate hikes," said Naveen Singh, head of fixed-income trading at ICICI Securities Primary Dealership in Mumbai. The announcement is "a big positive for short-end bonds," he said.
The yield on 2-year notes slid 18 basis points, while that on 3-year fell by similar margin. Ten-year yields declined five basis points to 6.46%.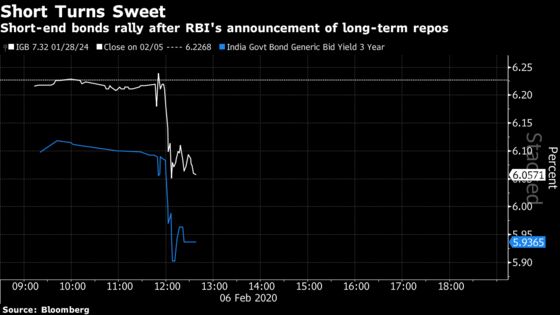 India's real estate financiers surged after the announcement, which will bring relief to the cash-starved property sector, according to Anuj Puri, chairman of ANAROCK Property Consultants.
Indiabulls Housing Finance Ltd. climbed 15%, the biggest advance since November. Repco Home Finance Ltd. jumped 5% to a six-month high. LIC Housing Finance Ltd. rallied 8.1% and L&T Finance Holdings Ltd. climbed to the highest level since June.
The RBI will do away with its daily liquidity operations at a fixed rate and will instead hold a 14-day term operation, it said while keeping its benchmark rate unchanged -- a move predicted by all 37 economists in a Bloomberg poll.
Long bonds posted modest gains on fears that the liquidity management tool may lead to fewer open-market bond purchases, though RBI Deputy Governor Michael Patra said the longer-term repos weren't intended to replace debt-support measures.
"The RBI has emulated the ECB by introducing LTRO," said Arvind Chari, head of fixed income and alternatives at Quantum Advisors in Mumbai. "Although LTROs are beneficial for short-term yields and lending rates, they might put an end to Operation Twist."