Bondholders Brace for the Worst as More Sanctions Talk Builds for Russia
(Bloomberg) -- A sense of doom about another round of U.S. sanctions against Russia is building among bond investors as they watch lawmakers in Washington hammer out new legislation that could block sales of new sovereign debt.
"The direction is quite clear: it's unanimously hawkish toward Russia," said Viktor Szabo, a portfolio manager at Aberdeen Standard Investments in London. "I'm pricing in the probability of further sanctions. We're beyond the point where we can ignore that."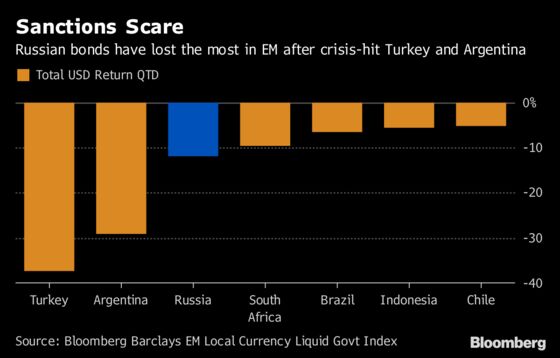 An order issued Wednesday by President Donald Trump and threatening less punishing restrictions was blasted by lawmakers for not being tough enough. Separately, the U.S. State Department said Thursday it's working on a second, "severe" round of sanctions for an alleged nerve-agent attack carried out by Russians in the U.K. Its measures are likely to target trade and diplomatic ties, rather than debt.
Investors are having to pick through no fewer than eight sanctions bills listed on the Congress website as pressure builds in Washington to punish Russia for alleged interference in the 2016 presidential elections. Another proposal that's been causing some angst would place limits on Russia's biggest banks. It's still unclear, however, which measures will make it into law and when the final version of the bill will be passed.
Read this primer for more details on the various bills being discussed
Hearings held during the past couple of weeks have drawn investor attention to the number of lawmakers who seem to be standing up in favor of either sanctioning sovereign debt outright, or introducing a bill that would enforce the measure if Russia is found to be interfering in future elections.
Daleep Singh, a former Treasury official who helped write sanctions measures against Russia in 2014, came out in favor of curbs on sovereign debt in a hearing this week. Earlier this year, the U.S. Treasury published a report advising against such a step because it could have a destabilizing effect on global markets.
"The negative stance toward Russia in Washington is hardening," said Shahzad Hasan, an emerging-market debt manager at Allianz in London. "There is a decent chance of primary market sanctions on Russian debt."
Trump, who's been criticized for refusing to accept that Russia meddled in U.S. elections, attempted to assuage the calls for a tougher stance by issuing an order on Wednesday threatening financial sanctions if foreign powers interfere in the November midterm elections in the U.S.
The executive order may serve to annoy rather than placate proponents of congressional action on Russia, "which could have the perverse effect of making legislation more likely," David Mortlock, a former White House National Security Council adviser, said in an article he co-authored with Brian O'Toole and published on the Atlantic Council's website.
Russian bonds have recouped some of their losses this week after 10-year yields surged on Monday to 9.24 percent, the highest since 2016. Still, the share of non-residents invested in local ruble bonds has fallen to 26-27 percent, according to the Finance Ministry. That's down from a peak of 34.5 percent in March, with foreign holdings shrinking by 345 billion rubles ($5 billion) in the four months since the start of April, central bank data show.
The sanctions threat means the bonds and the ruble have drifted from the value implied by market fundamentals such as the price of oil, Russia's main export earner. That implies Russian bonds could rally if the noise around sanctions dissipates, according to Michael Roche, an emerging-market fixed income strategist at Seaport Global Holdings LLC in New York.
"There's always a some stagecraft in Washington," Roche said. "It's still an unknown what sanctions will actually be enacted."