Hammond Gets Free Rein on U.K. Budget From Bond Market Vigilantes
(Bloomberg) -- Chancellor of the Exchequer Philip Hammond -- a minister with many political enemies -- may find the bond market a less fearsome foe.
While bond vigilantes have bared their teeth in recent weeks by punishing Italy's populist government for its spending plans, the U.K. is unlikely to face the same fate if Hammond opts to loosen the purse strings at Monday's budget. The U.S. may provide a better guide. The bond markets largely shrugged off Donald Trump's tax cuts and spending increases even as they pushed the deficit to a six-year high.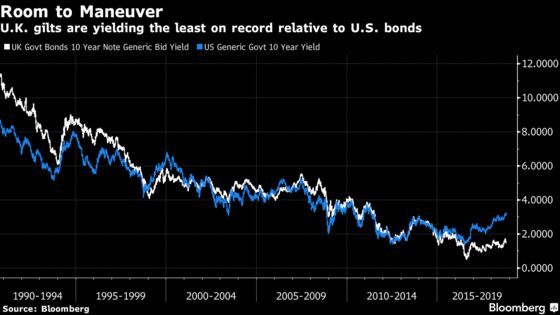 "Unless the change by Hammond was so big that it completely altered the dynamics of the U.K. economy, where we are now you could have a little bit more debt and it doesn't matter," said Kacper Brzezniak, a portfolio manager at Allianz Global Investors, which overseas 524 billion euros ($605 billion) in assets. "For some of the wealthier countries like the U.K. and U.S., there's actually very little correlation between the deficit you run and yields."
The leeway might be useful for the Chancellor as he tries to deliver Prime Minister Theresa May's pledge to end almost a decade of austerity. Whether Hammond, who has been the focal point of attacks by Brexiteers in recent months, decides to make use of it is another matter. A fiscal conservative, he'll try to stick to his self-imposed rules, and his pledge to balance the books by the mid-2020 -- while also keeping some money aside to deal with any fallout from Brexit.
Read More:
U.K. PREVIEW: Hammond's 'End to Austerity' Will Be Wafer Thin
"With the narrowest of majorities, the likelihood is that the government will find it hard to push through anything even slightly controversial," Elizabeth Martins, senior economist at HSBC, wrote in a note last week. Still, the better public finance data means that "the Chancellor may not have too many hard choices to make."
The U.K. budget comes as European Union leaders drag Italy's populist government over the coals for its defiance of spending rules. The market's reaction to the turmoil has evoked memories of the euro-area debt crisis, when bond traders seized on signs of fiscal indiscipline to lift yields -- and even toppled governments.
The spread between Italian and German 10-year debt broke through 300 basis points this month, the widest in five years, while a spread of 400 is seen as a level that would put unsustainable pressure on the banking system.
As during the debt crisis, the fact that the U.K. has its own central bank that can cut rates and even buy gilts if the economy needs support, acts in its favor. Still, that didn't stop then-Chancellor George Osborne regularly using the situation in Greece and other euro-region nations as a warning of what Britain would face if it strayed from austerity.
There are now signs the tide is turning. The prime minister has promised billions extra for the cash-strapped health service and state employees, leaving Hammond with the job of finding the money.
Primary dealers surveyed by Bloomberg predict that borrowing will actually fall next year. To fund extra spending, Hammond may therefore rely on tax rises and a windfall from better-than-expected public finances, according to Bloomberg Economics's Dan Hanson and Jamie Murray.
"If he loosened the fiscal plans a bit, he's not going to be greeted with an adverse reaction in the bond market," said Samuel Tombs, an economist at Pantheon Macroeconomics in London. "The situation is obviously very different in Italy, where the dept-to-GDP ratio is a lot higher, trend growth looks worse than the U.K., and crucially, the Italian central bank doesn't have control over monetary policy."
Hammond's room to maneuver is further highlighted by U.K. 10-year yields that are currently below 1.5 percent, about 1 percentage point less than their average in the past decade. Unlike their neighbors across the Atlantic, U.K. investors don't expect a fast pace of policy tightening and Brexit is keeping prices supported, even as demand has fallen from earlier in the year.
Gilt yields are the lowest relative to U.S. yields since at least 1989, partly because of what Tombs says is an unprecedented divergence in the two economies' fiscal outlook.
Yet there's also another vital difference between the U.K. and the U.S. With just five months until Britain leaves the European Union and no clarity yet over the future relationship, investors and primary dealers see Brexit overshadowing all of the reasons to loosen the purse strings.
"He should be bolder in terms of what he's trying to do to position the U.K. for a post-Brexit world," said David Owen, chief euro economist at Jefferies International Ltd. "He's missing opportunities."