Bond-Market Inflation Gauges Give Fed Plenty of Room to Pause
(Bloomberg) -- The $1.4 trillion market for inflation-linked U.S. government debt is giving the Federal Reserve plenty of room to take a break after nine rate hikes since 2015.
The breakeven rate on five-year Treasury Inflation Protected Securities -- a proxy for traders' view on the annual inflation rate -- has rebounded since the start of the year on strong jobs data and as investors bet the Fed wouldn't tighten to the point that it quashed growth. Yet at about 1.66 percent, it's still well below its 2018 peak of 2.19 percent. And a measure of long-term inflation expectations that the central bank favors is below its 2018 average.
The signals from TIPS are aligning with policy makers' take in December on the prospect of quicker inflation. Minutes from last month's Federal Open Market Committee meeting, released Wednesday, showed many participants saw muted inflation pressures as giving them room "to be patient" when it comes to further tightening.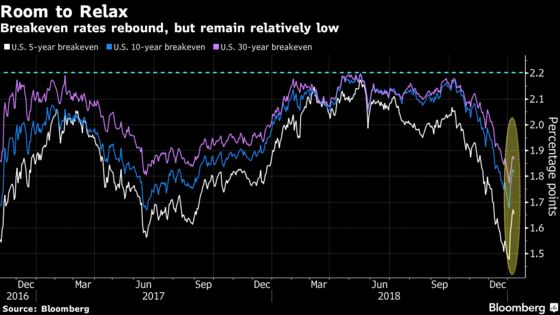 "Patience, a pause, and the Powell Put have come into focus far more quickly than many anticipated," BMO Capital Markets strategists Ian Lyngen, Jon Hill and Ben Jeffery wrote in a note Thursday.
There are a couple reasons to expect the sanguine inflation backdrop to continue. For one thing, abundant oil supplies may contain prices even after a rebound of more than 20 percent in West Texas Intermediate crude since late December.
And ebbing Chinese economic growth is adding to the softer commodities backdrop. Chinese factory inflation slowed sharply in December.