Bonds Rally in India as Modi Keeps Crop-Price Increase in Check
(Bloomberg) -- Sovereign bonds in India advanced after the government's farm support prices were seen largely in line, damping fears of higher fiscal cost to woo farmers ahead of general elections next year.
The government raised assured prices for crops such as cotton and paddy rice to ensure farmers get at least 50 percent more than their production costs, a move toward fulfilling Prime Minister Narendra Modi's pledge to double farm incomes by 2022.
The announcement of support prices removes a key overhang for the bond markets which has struggled to recover from its deepest rout in two decades. The increase will cost the government an additional 150 billion rupees and won't stoke price pressures, Home Minister Rajnath Singh said at a briefing.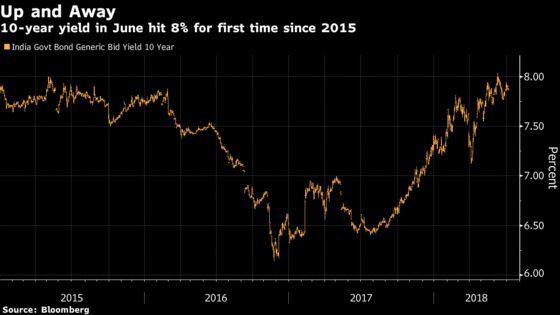 A rate hike by the Reserve Bank of India last month had raised more concerns over the inflation outlook, and sapped investors' appetite for the debt.
"Its unlikely that the RBI acts immediately based on this -- they might want to see the actual impact on CPI due to the hikes," said Kuldeepsinh Jagtap, executive vice president at ICICI Securities Primary Dealership Ltd. in Mumbai, who expects a headline inflation impact of around 60 basis points.
Higher farm support prices could pressure retail inflation upwards by 35-40 basis points and add to the nation's fiscal cost by 0.1-0.2 percent of GDP, said Anubhuti Sahay, head of South Asia economic research at Standard Chartered Bank in Mumbai.
The RBI is still likely to deliver a 25-basis point hike at the August meeting, she said.
India's benchmark 10-year bonds capped a fourth straight quarterly decline at the end of June. The yield climbed 50 basis points in the last three months as rising oil prices and a weakening currency damped sentiment further. The yield ended three basis points lower at 7.85 percent on Wednesday.
"There's unlikely to be much bond-market impact from the decision to boost farm support prices as actual prices tend to be much lower than support prices historically," says Harihar Krishnamoorthy, treasurer at FirstRand Bank in Mumbai.
The rupee also ended 0.3 percent lower at 68.7425 to a dollar in Mumbai.