BOJ to Stand Pat With Economic Outlook in Focus
(Bloomberg) -- The Bank of Japan is widely expected to keep its main policy settings unchanged Wednesday amid signs the virus-hit economy is past the worst, with attention likely to focus on the BOJ's quarterly economic projections.
Governor Haruhiko Kuroda and his board will maintain interest rate and asset purchase settings at the end of a two-day meeting, according to 96% of economists surveyed by Bloomberg. The policy statement is usually released around noon followed by Kuroda's press briefing at 3:30 p.m. in Tokyo.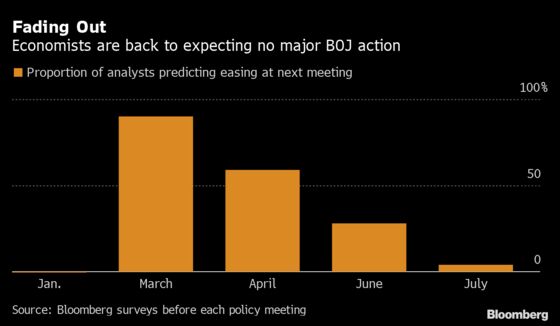 Following a raft of policy measures introduced since March, additional actions aren't needed for now given that financial markets are relatively stable and companies aren't facing significant funding problems, people familiar with the matter said. The European Central Bank is expected to hold policy settings when it meets on Thursday, signaling the end of initial crisis responses from the two major central banks.
"The BOJ will be sitting tight as the worst has passed with economic activities gradually picking up," Yasuhide Yajima, chief economist at NLI Research Institute, said. "Still, strengthening its funding programs is possible down the road as the economy is on an extremely weak footing."
In the absence of a policy change, BOJ watchers are focused on the outlook report to be released with the policy statement. Bank officials see economic developments more or less as forecast in the previous report from April, according to the people. This suggests there should be no large downgrades, but some slight changes are possible.
| GDP | BOJ's Latest Outlook | Economist Forecast |
| --- | --- | --- |
| FY2020 | -5.0% ~ -3.0% | -5.0% |
| FY2021 | 2.8% ~ 3.9% | 3.5% |
What Bloomberg's Economist Says

"Barring a second wave of virus infections or substantial shock to financial markets, we expect the BOJ to stay on hold for the time being."

Asia Economist Team

Click here to read more.
Economists are watching to see if the BOJ continues to present its economic projections only in a range, a rare move the bank took in April. If the BOJ reverts to including its usual median estimates, this would suggest that the period of elevated uncertainty has passed.
The overall tone of the outlook report will be scrutinized by analysts. The BOJ wants to avoid a hawkish tone to keep the yen from strengthening. The phrasing that the economy has bottomed out will be carefully worded.
The central bank has emphasized that its focus is on the stability of financial markets and the funding of companies. BOJ watchers will be looking for any hint of the 90 trillion yen ($842 billion) virus programs being expanded or extended, as there are increasing signs that economic activity will be impacted by Covid-19 for some time.
Updated inflation forecasts are likely to remain well below the BOJ's 2% target. Kuroda will likely emphasize the willingness to keep policy settings stimulatory for as long as needed.
The BOJ expects interest rates to remain at the current low level or even lower.
A rate of -0.1% on some reserves kept at the bank by financial institutions.
Yield target of about 0% for 10-year Japanese government bonds, with a trading range of about 0.2 percentage point on either side of the mark.
Will purchase Japanese government bonds as needed and without a limit, though the amount of purchases remains secondary to controlling interest rates.
A guideline to increase holdings of exchange-traded funds with an upper limit of 12 trillion yen a year. Actual purchases vary from month to month, depending on

market conditions

.
Active buying of corporate bonds and commercial paper with an expanded upper limit on holdings totaling 20 trillion yen.