BOJ Joins Global Climate-Change Battle With Green Loan Support
The Bank of Japan joined the battle against global warming by offering a series of incentives for lenders to help businesses move toward a greener economy, with Governor Haruhiko Kuroda insisting there was no longer any time to waste.
The BOJ said Friday it would offer banks interest-free funds for climate-linked loans or investments and exempt more of their reserves from its negative interest rate. After a two-day meeting, the central bank also left its main policy settings unchanged and tweaked its economic forecasts to reflect the latest virus restrictions as Japan readies for a fan-free Olympics.
In a separate release detailing its climate strategy, the BOJ said it would buy green bonds denominated in foreign currencies using its foreign reserves, though it still held off committing to targeting Japanese green securities.
Speaking to reporters after the decision, Kuroda said the mandates of central banks across the world don't need to be overhauled to start taking action on the environment. Nor should monetary authorities, banks or companies wait to act until a consensus is reached on defining what is green, he said.
"It's possible that one day there will be agreement internationally on green taxonomies," said Kuroda. "But it's not appropriate for us or other central banks to wait around until that happens. That's why we created this new program, and built flexibility into our response."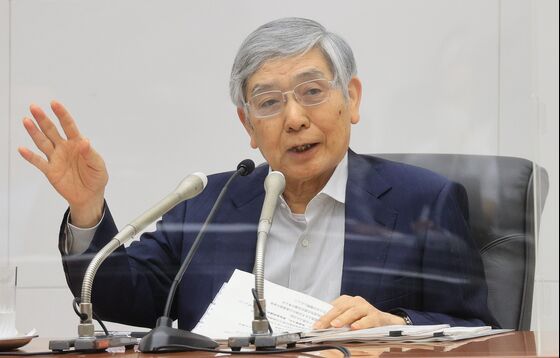 While the incentives are the BOJ's first specific steps to support efforts to rein in global warming and demonstrate its willingness to step beyond the conventional bounds of a central bank, a majority of economists had expected the central bank to go further, by paying 0.1% or 0.2% on green lending.
"The timing of this is ambitious, but the BOJ steps are small compared with the European Central Bank and the Bank of England," said economist Kyohei Morita at Credit Agricole Securities Asia. "The BOJ clearly isn't trying to be a game changer by itself unlike the Europeans."
The ECB last week said it would consider climate change when assessing its asset purchases and broader policy decisions. The BOE added an environmental element to its mandate recently and has committed itself to buying more green assets.
Still, with Friday's moves, Kuroda and his colleagues moved in the direction of their European peers and also put themselves in closer alignment with Japan's government and its goal to cut greenhouse gas emissions by 2050. Kuroda first flagged his intention to take action on climate change in an interview with Bloomberg News in May.
Given the increasing issuance of green bonds globally, the BOJ said it would buy those issued by governments as part of its management of foreign currency assets. France and Germany account for about 45% of green bonds issued by governments overseas so far this year, according to Bloomberg data.
The bank indicated earlier this week it would also indirectly buy green bonds in partnership with other Asia-Pacific central bankers.
The move to buy overseas green sovereigns won't have much of a market impact, according to economist Masaki Kuwahara at Nomura Securities. He indicated that the domestic incentives for green lending were more important at this stage.
"It's not as if the BOJ is suddenly purchasing green bonds as part of its regular bond purchases, or as part of its asset purchasing program," Kuwahara said.
In its statement, the central bank said it would provide interest-free funds for one-year terms to banks to support their climate loans with no limit on rolling over the funding. The BOJ said it would also increase the amount of reserves exempt from its negative interest rate by twice the amount lent out by banks.
More than half of surveyed economists had expected the BOJ to do more. The BOJ may have toned down its approach after Japanese lenders gave a chilly reception to its more ambitious ideas.
In recent meetings, representatives from some banks told BOJ officials they were concerned that profit margins could be squeezed even further if borrowers started demanding lower rates, knowing BOJ money was also on the table, people familiar with the matter said.
What Bloomberg Economics Says...

"This doesn't give banks much incentive to step up lending to fight climate change -- and suggests the BOJ is keen to avoid distorting capital allocation with the program."

-- Yuki Masujima, economist

To read the full report, click here.
"I'm not convinced they are very enthusiastic about this. I feel the BOJ had been forced to join climate change efforts because other central banks especially Europeans are increasingly raising their voices," said Yasuhide Yajima, chief economist at NLI Research Institute.
By providing another route for banks to avoid its negative interest rate, the BOJ could also be further diluting the impact of that policy without exiting or raising the rate, according to Freya Beamish, economist at Pantheon Macroeconomics.
Still, she thinks Friday's baby steps to turn the tide against climate change do have wider significance.
"Mr. Kuroda made every effort to manage expectations," she said. "But we think this could become a major plank of policy, given the tiredness of the current regime and the potential for demand for loans under the new scheme, especially once regulations shift in favour of green finance."