Bank of Japan Seen Extending Covid Aid as Gap With Fed Widens
The Bank of Japan is seen drifting further from an increasingly optimistic Federal Reserve on Friday, when it is expected to keep its main stimulus tools in place, while extending aid for the country's pandemic-hit businesses.
The vast majority of analysts expect the BOJ to tinker around the edges of its toolkit by pushing back the end of its Covid-era lending measures beyond their current expiry in September. Some 60% see that happening this week, while about a third expect the bank to move next month.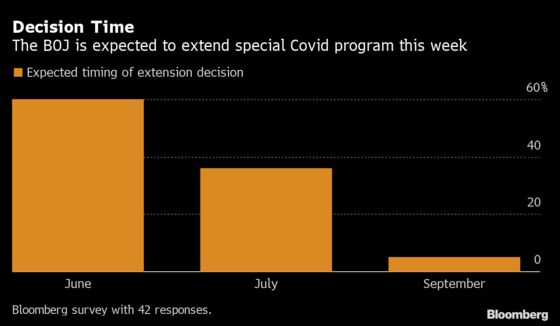 Any signals from the BOJ that it plans to stand pat on its negative interest rate and asset purchases for the foreseeable future, as is widely expected, would by itself mark a difference from the Fed, which Wednesday moved up its timetable for potential rate increases. The Fed said it now sees two hikes from rock bottom levels by the end of 2023.
The BOJ's more cautious posture is a big reason the yen is the world's worst performing major currency this year -- a development that's positive for Japan since it boosts the profits of exporters.
Governor Haruhiko Kuroda is expected to reinforce a dovish message at a press briefing around for 3:30 p.m. in Tokyo. The bank usually publishes its policy statement around noon.
Analysts see the BOJ extending the life of its Covid measures for a third time because Japan's economy is still in a vulnerable spot, in contrast with the U.S. and China where recoveries have taken hold.
A slow-to-get-off-the-ground vaccine drive has given Prime Minister Yoshihide Suga few options besides repeated declarations of emergency to try to contain virus flareups. That's hampered Japan's growth.
Kuroda last month said the BOJ would "naturally" extend its Covid aid, if needed. Under the program, started last spring, the BOJ has bought trillions of yen in corporate bonds and loaned out many trillions more for banks to lend to Japanese businesses.
What Bloomberg Economics Says ...

"One issue at play is whether to extend a Covid-related funding program... Given the need to sustain support for the corporate sector, we think the BOJ will do so -- but likely not until its July meeting. This will give it more time to assess government progress on containing the Covid-19 outbreak and vaccinating the population."

--Yuki Masujima, economist

To read the full report, click here.
How long the BOJ ends up extending its Covid aid will also be important, assuming it happens. An extra six months would end the program around the same time as similar measures from the European Central Bank. Anything less would be a sign of BOJ optimism
The bank's characterization of the economy as generally trending up

feels

slightly out of synch now, given expectations for almost no growth this quarter after last quarter's contraction. Look for any new wording the BOJ offers to adjust its view on current conditions
Investors will also parse the bank's description of the outlook. While inflation is nowhere strong enough to allow the BOJ to consider reining in stimulus, an accelerating vaccine drive has raised the odds of faster growth later this year than most analysts have projected
Investors will be looking closely at any comments about exchange-traded funds, after the bank in May refrained from buying them for the first full month since Kuroda took the helm in 2013
Kuroda is also likely to be asked about his views on how well the bond market is functioning. Ten-year yields last month only moved within a narrow range of 2 basis points even after the BOJ made adjustments that were supposed to allow slightly wider swings